Mapping it out: Explaining Niseko's Different Areas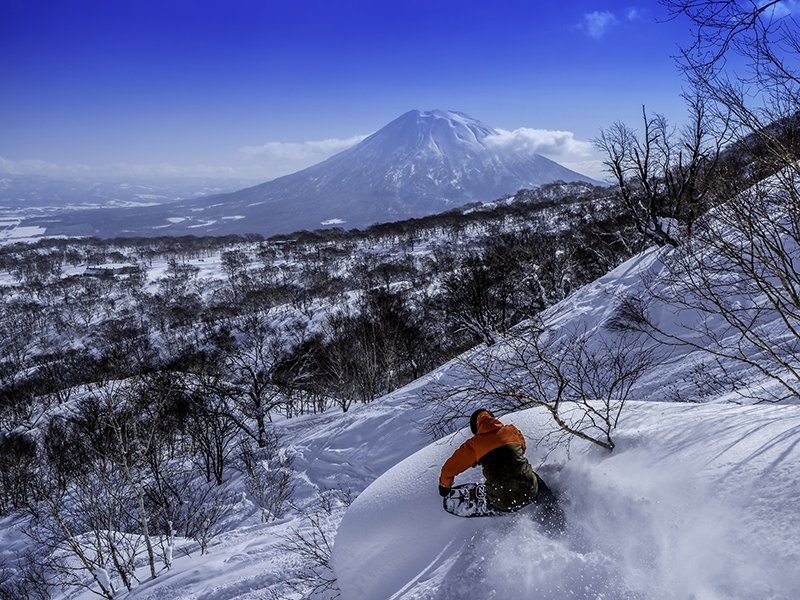 Enoying my time in the mountains. Photo: Daniel Honda.
Before I moved to Niseko, I remember doing lots of research on the area. I wanted to understand where the best access to the lifts was, where the nightlife was happening, and where the nearest town was for shopping. However, I found this a bit confusing with the names that were present. Where is "Niseko Town"? What is "Niseko Village"? Is "Hirafu" a city? And what is "Kutchan"? This article will answer all these questions and give you a better understanding of where everything is for your trip to Niseko.
Niseko Town: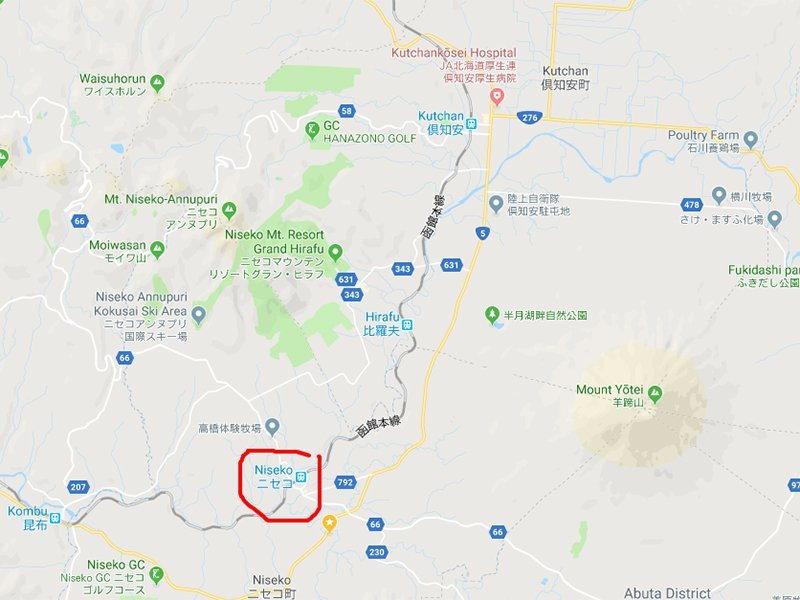 The area referred to as "Niseko", with Niseko Town circled.
At large, the area surrounding the Niseko United resorts is referred to as simply "Niseko". This can be a little bit misleading, as the town of Niseko is likely not where you will be staying during your time at the resort. Niseko Town is located to the south of the Niseko United Resorts, and takes about 10 to 20 minutes driving to get to the lifts depending on where you start. It is a quaint little town where many of the year-round residents call home, and certainly not the center of the action at the resort. You might be able to find some affordable accommodation there, but we recommend renting a car, as transportation is difficult from that far out.
Hirafu: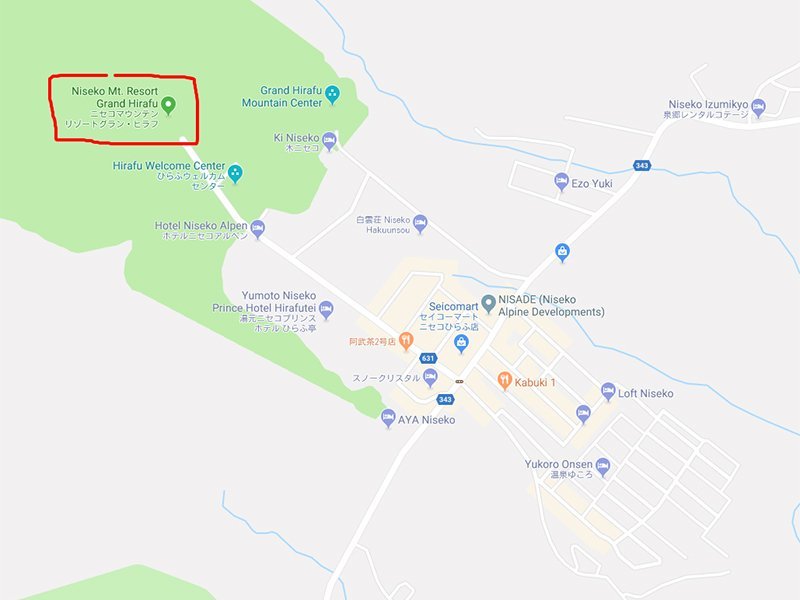 Everything shown on this map is is referred to as "Hirafu".
The lively centerpiece of the Niseko United Resorts. Hirafu Village is located just below the Grand Hirafu lifts, and this is where you will find the most happening in the Niseko area during winter. The largest collection of hotels are in Hirafu, holding everything from 5 star luxury to hostels for backpackers. This area also has the highest concentration of bars and nightlife in general. If you enjoy a drink, a dance, or to mingle late night with locals and internationals alike, then we recommend staying in Hirafu as everything is within walking distance. Hirafu Village also boasts an incredible variety of fine dining options, lots of small Izakaya style restaurants, convenience stores, and food carts. You will certainly not go hungry in Hirafu! Recent developments have also added a few places to get groceries at a reasonable price, including Hirafu 188 (Sapporo Drugstore) and The Niseko Supermarket in the Shiki Hotel. Highway 343 divides Hirafu into two sections: Upper and Lower Hirafu. Upper Hirafu offers ski in and ski out options, as well as is closer to the lifts in general. However, in Lower Hirafu you can still walk to the lifts or take a free shuttle bus if you are further down the hill. Some of the best bars and restaurants are tucked in Lower Hirafu as well!
Niseko Village: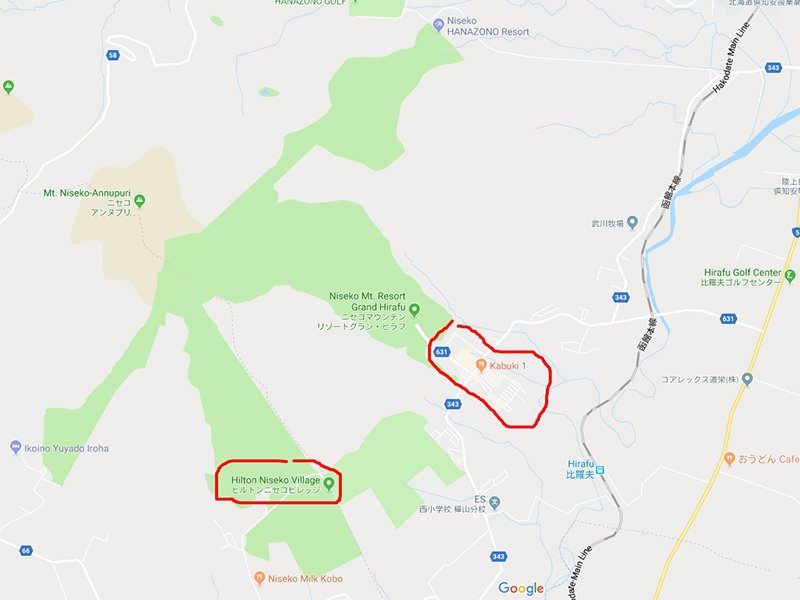 Both Niseko Village and Hirafu are circled to show relative location.
Niseko Village is the name of 1 of the 4 ski resorts making up Niseko United. It is located just southwest of the Grand Hirafu Ski Resort and Hirafu Village. Although Niseko Village is home to the big Hilton Hotel in the area, it is not nearly as developed as Hirafu. The name "Niseko Village" can be confusing as well for those looking to stay in the center of the action, as Hirafu is hands-down the best choice for that. Niseko Village is a great option for some, as the Hilton has everything you need, including a large onsen, restaurants, and a bar included. Niseko Village has some other accommodation that will likely be more affordable than Hirafu, but the choices of bars and restaurants are limited. There is a shuttle bus going between Hilton and Hirafu however, so you can reach the busy streets of Hirafu with only a short 10 minute bus ride.
Kutchan: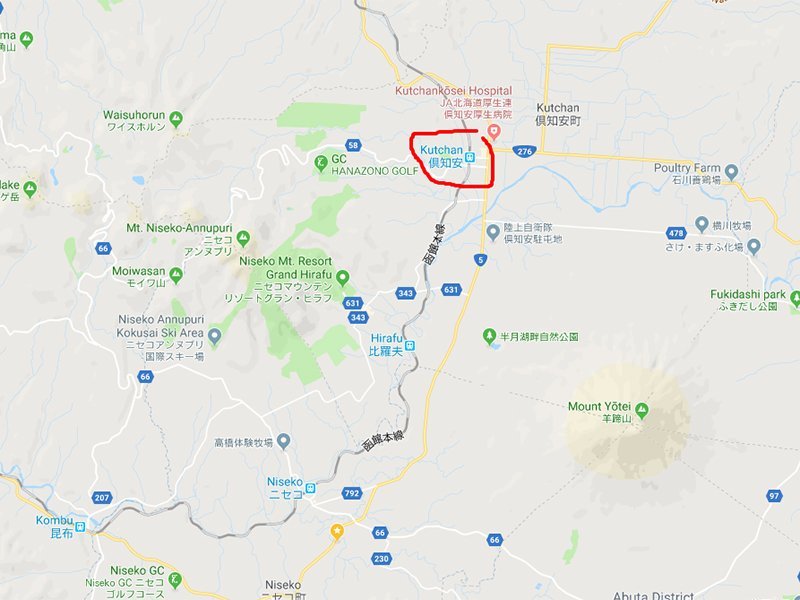 The greater Niseko area with Kutchan train station circled.
Kutchan town is the closest and biggest city to Hirafu and the Niseko United resorts. Even then, the population is a modest 15,000 during the summer, with an inflated number in the winter due to visitors and seasonal workers. Kutchan has several bigger supermarkets to choose from with lower prices than the options in Hirafu in general. Kutchan is also home to the closest proper hospital. The Kutchan train station is your best choice when arrive to the Niseko United resort area. The "Hirafu" station is further away from Hirafu Village, and most all of the travelers coming to Niseko by train will get off in Kutchan. Staying in Kutchan is a great option for some people as well. It is only a quick 5 minute drive to Hanazono Niseko Resort, and there are busses running all day between Hirafu and Kutchan. A rental car is recommended, as lots of ski gear on the bus can be difficult! Kutchan also offer more of a local Japanese vibe. You will find lots of bars and restaurants with authentic Japanese style at a lower cost. Accommodation also comes at a lower cost than Hirafu or the other main resort areas.
Annupuri and Moiwa: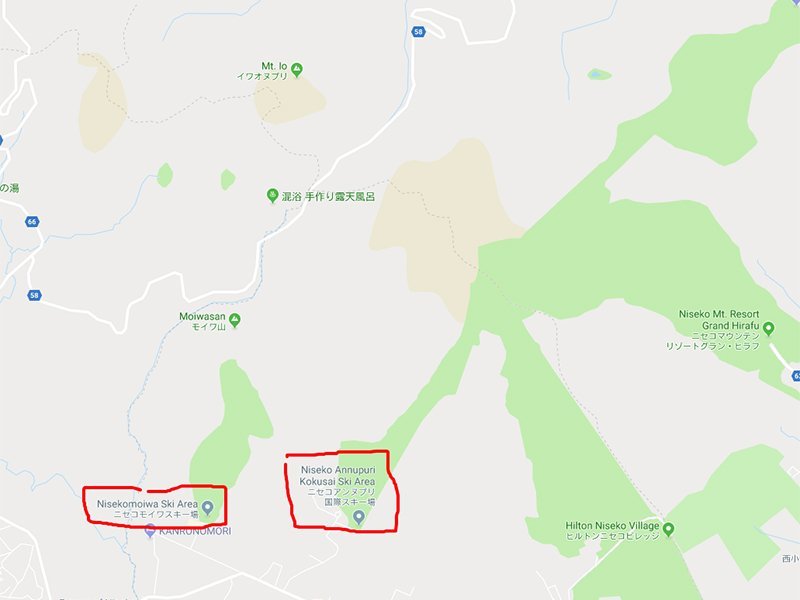 Both Annupuri and Moiwa are circled, while showing Niseko Village and Hirafu.
Annupuri Resort holds the westernmost slopes of the Niseko United resorts. It also has the most Japanese style of the 4 resorts, and has a plethora of some of the best onsens in Niseko nearby. There are a few bigger hotels as well as other accommodation options at the base. Niseko Moiwa Ski Resort is located just west of Annupuri, and is not part of the Niseko United Resorts. This small resort only has a few lifts, but holds great riding in true Japanese style. There are a few accommodation options there as well, but it is much more limited, and doesn't have as many dining options nearby. We recommend renting a car if you stay in the Moiwa or Annupuri areas.
Hanazono:
The 4 Niseko United Resorts are shown with Hanazono circled.
Hanazono is the newest of the 4 Niseko United Resorts. It bookends the northeast of the resorts and has much of the sought-after backcountry terrain access of Mt. Niseko-Annupuri. Hanazono currently does not have many accommodation options, but there is a huge development plan in place. Winter 2020 will feature a brand-new Park Hyatt Residences Hotel at the base of Hanazono, as well as larger ski center, shopping, and more dining options. There are currently chalets and houses around the hills of Hanazono that can be booked as accommodation, however we would recommend having a car at your disposal to get around.
Looking up at night skiing from the famous Hirafu intersection.
These are the main areas in Niseko where most would be staying or visiting during their time here. There are of course exceptions, but we hope that this gave you a better idea of where to stay, where to shop, where to eat and drink, and where to ski. All in all, if you want the true "Niseko" experience, where people from all around the world gather, then staying in Hirafu is our recommendation. However, the outside areas can offer better value, and a more tranquil experience in Hokkaido's beautiful mountains, not matter the time of year.
Do you have more questions or want to book? Contact Us!