Top 10 family summer activities in Niseko
If you're searching for the perfect location to reconnect with the family and enjoy some quality time together, look no further than Niseko, Hokkaido. It's known as a great destination for families to enjoy the snow in Winter, but did you know it is also has plenty of fun things to do in the Summer?
With a beautiful outdoor landscape, thriving farms and an active local community, it's a great place for an adventure, especially if you are visiting with your little ones. Here are our top picks for family-friendly activities you can do in Niseko in Summer.
1. Fishing Tours
There are a number of expert fishermen in Niseko who specialise in river, ocean and flyfishing. Learn a new skill as a family and venture into the great outdoors to fish in the crystal clear waters of Shakotan or the Shiribetsu river, one of the cleanest in Japan. You can catch some of the best seafood in Japan in and around Niseko, from fresh uni (sea urchin) to delicious river salmon.
HANAZONO Ocean Fishing Tours | Niseko Flyfishing Tours
2. Kid's Rafting
During the springtime, the Shiribetsu river can be quite high, offering an exhilirating experience for adrenaline seekers. But in the Summer, HANAZONO offers a rafting session just for families when the river is lower and safer for young ones (kids as young as 3 can participate!). Head out with an experienced guide and glide down the river, witnessing the beautiful forest around you and bond as a family as you problem solve along the way.
3. Bike Riding
Niseko is the perfect place to go bike riding with the family in Summer: with low traffic, wide roads and gentle inclines, why not explore the beautiful natural landscapes on a bike? You can rent road bikes and mountain bikes in both adult and child sizes at Rhythm Japan for a choose-your-own adventure experience, or take a guided tour through Niseko with HANAZONO. You can also take your little ones to the Hirafu Strider park, where they can develop their bike skills on a safe course.
Bike Rentals | Guided Bike Tours | Hirafu Strider Park
4. High Ropes Course
Explore Niseko from a different perspective - up in the trees! Niseko Adventure Center (NAC) has an exciting and fun tree trekking course, where the whole family can safely solve the wooden obstacle course suspended in the lush green forest. Helmets, harnesses and training are provided, so you can test your skills, get a great view and exercise in an unconventional way.
NAC Adventure Park (High Ropes)
5. Rock Climbing + Indoor Playplace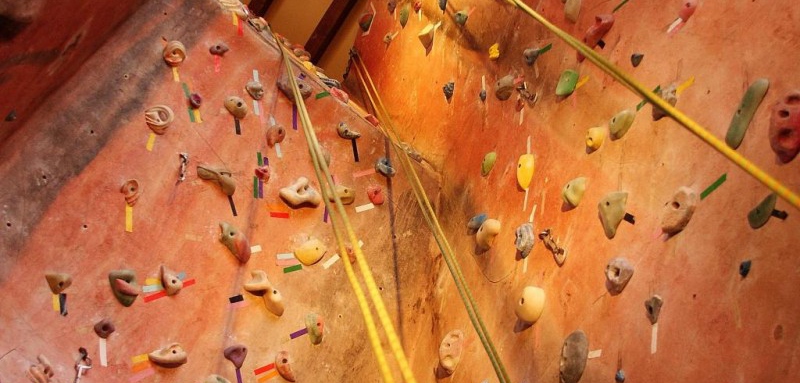 NAC also has Niseko's only indoor rock climbing gym (situated in Hirafu), which includes beginner-friendly routes that are perfect for kids. With safety as a top priority, kids can learn rock climbing in a fun and risk-free environment, while parents can try climbing the harder routes or bouldering wall, or sit back and enjoy a coffee or burger upstairs at Jojo's cafe. Instructors are available to help you get started if you've never tried rock climbing before, and there's also an indoor playplace for younger children to stay entertained.
NAC Rock Climbing | NAC Indoor Playplace
6. Milk Kobo Dairy Factory
The whole family can visit one of Hokkaido's most famous dairy farms at Milk Kobo. Run by Takahashi Farm, Milk Kobo is their dairy product store, where you can try all the delicious treats like cheese tarts, milk pudding, fresh ice cream and soft cream, cream cakes and cream puffs. If you're looking for a great photo opportunity, you can visit the iconic hay bale photo spot on the field outside Milk Kobo, where you get a fantastic view of Mt Yotei. There are also some fantastic lunch spots run by Takahashi Farm nearby that use the fresh dairy products like Prativo (petit lunch dishes and vegetarian buffet) and Mandriano (Italian-style pizza and pasta).
7. Creative Workshops
For the creative family, try a new craft or local Japanese recipe at Niseko Outdoor Center. With a variety of indoor and outdoor workshops, you can learn something new and take something beautiful or delicious home with you! Try making fresh mochi, sweet jam, beautiful beaded jewelry, a colourful candle, Japanese buckwheat noodles (soba), wool art or delicious ice cream with the help of the friendly instructors.
8. Niseko Ostrich Farm
A little-known and curious attraction in Niseko is the Arishima Ostrich Farm, where a flock of around 50 ostriches live year-round. Located in Niseko town just 20 minutes from Hirafu village by car, kids and adults alike can be delighted by the huge birds as they lay and strut around the large field, with the majestic Mt Yotei serving as a backdrop. For a few hundred yen, you can purchase some feed to get up-close-and-personal with the ostriches - just be sure to put it in the feeder while they aren't looking, they may try to peck the bag out of your hands!
Ostrich Arishima 2nd Farm Niseko
9. Hiking
Surrounded by mountains, Niseko has plenty of kid-friendly hikes for the adventurous family to enjoy. Visit the picturesque Shinsenuma marsh at the base of Mt Niseko-Annupuri, or Lake Hangetsu at the start of the Mt Yotei hiking trail. Asahigaoka ski hill also offers a nice inclined walk for families in Kutchan town, where you can view Mt Yotei from the top of the lift, or enjoy the forest trails to the back of the hill. For older kids, try Mt Iwaonupuri behind Niseko-Annupuri for an intermediate hiking experience, and check out Onuma pond and the volcanic crater at the peak.
10. Pizza Making
For a fun hands-on family activity, try the Niseko Green Farm pizza making experience, where you can pick fresh vegetables from the garden and learn to use the stonefire oven for delicious Italian pizza. Niseko is known for its farm-to-table restaurants and delicious produce, so this is the perfect way to try farm-fresh food in Hokkaido's foodie heaven!
Want to get away with the family this Summer?
Contact us for a range of family-friendly accommodation options and the support of our guest services team to book all of the above activities plus essentials like transfers and rental cars.