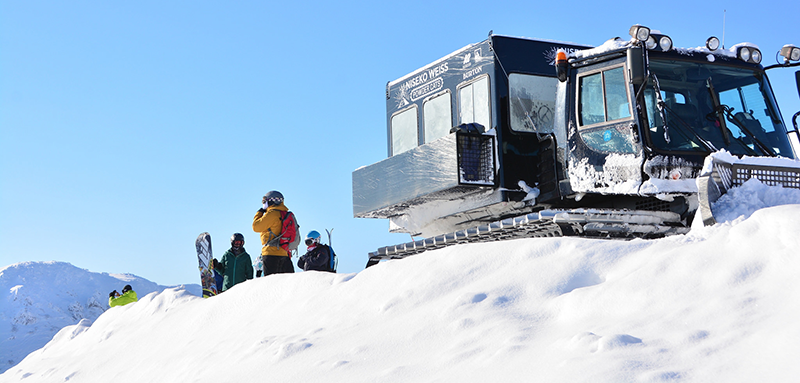 Claim the entire mountain for your and your closest friends or family. WEISS cat skiing is a showcase for Niseko's world-famous champagne powder. Long, deep runs through both meadows and forest, Mt. Weiss is a true introduction to the Niseko backcountry. Join a group of other powder-lovers, or hire the entire cat to give your family the perfect introduction to powder and the backcountry. Lunch included.
Guests will complete an average of 6-7 runs in one tour. The steepest run is 30+ degrees and the average is 20 degrees. The maximum vertical decent is 450metere. The CAT has a specially-made cabin that can fit up to 12 guests, keeping them warm during the ride up.
Niseko Weiss Powder Cats will operate one tour per day. The tour will either be a group tour with 12 individual seats available or a private tour. Guests booking a private tour can have up to 12 guests in their group.
Tour Schedule
7:00AM - 8:00AM - Guest pickup
8:15AM - 8:45AM Registration, safety briefing, safety gear supplied and beacon training.
9:00AM - 12:00PM Morning session - 3 to 5 runs
12:00PM - 1:00PM Lunch break at Weiss Hotel
1:00PM - 3:00PM Afternoon session - 2 to 3 runs
3:30PM Tour finishes at Hanzono 308
Niseko Weiss Powder Cats
Tour
Duration
Price
Starting Time
Starting Point
Group Tour
7 Hours
¥39,000/person*
8:15 AM
Accommodation Pickup
Private Tour
7 Hours
¥380,000/CAT
8:15 AM

Accommodation Pickup
*Minimum of 4 pax for all group tours to run.
**In the event a tour is cancelled, the guest may reschedule or receive a refund. Guests must call 0136-21-6688 the day before their tour to reconfirm.
***Guests will have the tour confirmed at 8:30pm the day prior to allow sufficient time to fill any remaining seats.
****Children must be age 10 and above.Children age 16 and under must be accompanied by an adult.