Hokkaido Colors: Our Favorite Autumn Spots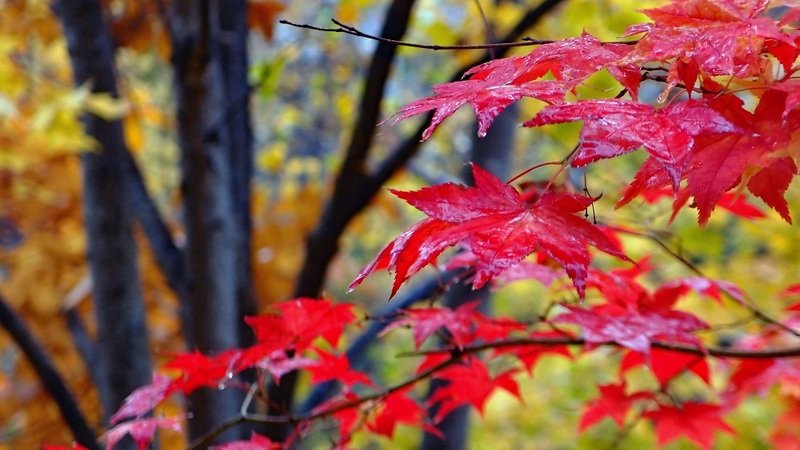 Blessed with distinct four seasons, there are always reasons to visit Hokkaido throughout the year. As popular as cherry blossom in spring and powdery snow in winter, the amazing autumn leaves is the top reason to visit Hokkaido in fall.
While cherry blossom first start appearing in southern Japan during spring, autumn colors first settle in from the north in fall. The deciduous trees start to change color from mid-September in northern Hokkaido and this colorful show slowly makes it way south until mid-November. ''Koyo'' (which means red leaves in Japanese) season is simply spectacular in Japan with its array of vibrant colors.
Every Japanese local have his or her own favorite spot to see the foliage. For travelers who are short of time, our team has come up with a list of spots for you to enjoy koyo around Niseko and Sapporo.
Hiking up Mount Annupuri
Red leaves can be enjoyed in many different ways. But why not combine this experience with a true nature setting while you are in Hokkaido? The colors are largely found in the mountain areas in the early koyo season, where the slopes turn into yellow, orange and red.
Measuring a total height of 1,308 meters, Niseko's Mount Annupuri is popular with hikers throughout the year. Hiking up the mountain to see the picturesque yellow and red colored slopes with Mount Yotei as a backdrop is an unforgettable experience. On your way down from the mountain, you can reward yourself at the Goshiki Onsen Hot Spring, which was once rated as one of the top 5 secret onsens in Japan!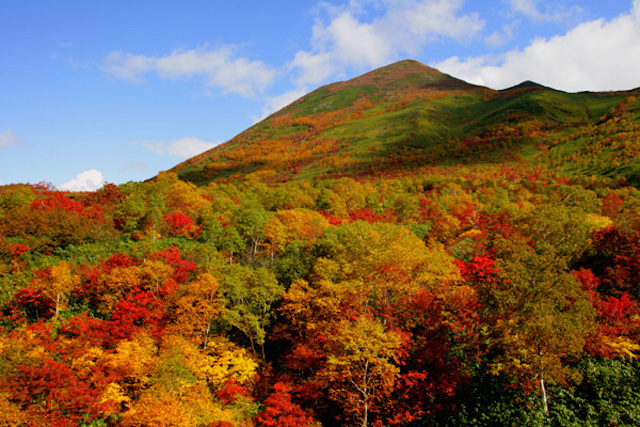 Beautiful koyo at Mount Annupuri
©http://www.h2.dion.ne.jp/~photo-hm/doou-32.html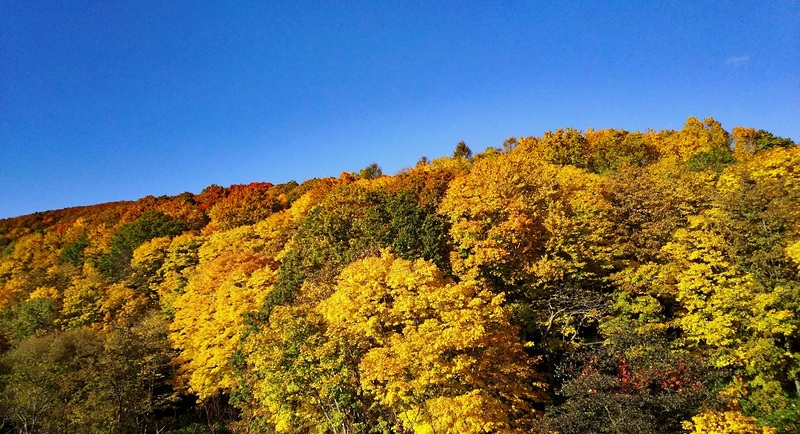 Hiking up the mountain is one of the best ways to enjoy the autumn foliage.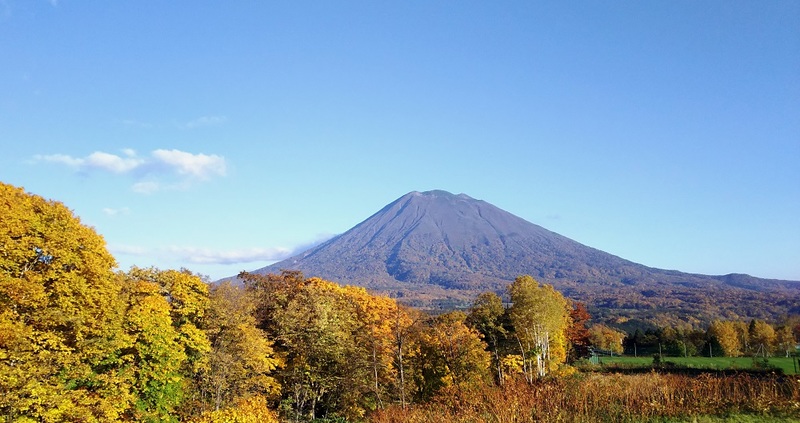 View of Mount Yotei from Annupuri.
Fukidashi Park, Kyogoku
Based at the foot of the eastern side of Mount Yotei, Fukidashi Park is about 20 to 30 minutes drive from Hirafu and it is located inside Kyogoku town. In contrast to other big parks, Fukidashi Park is a calm and soothing place where one can slowly enjoy the foliage views without being disturbed with too many tourists.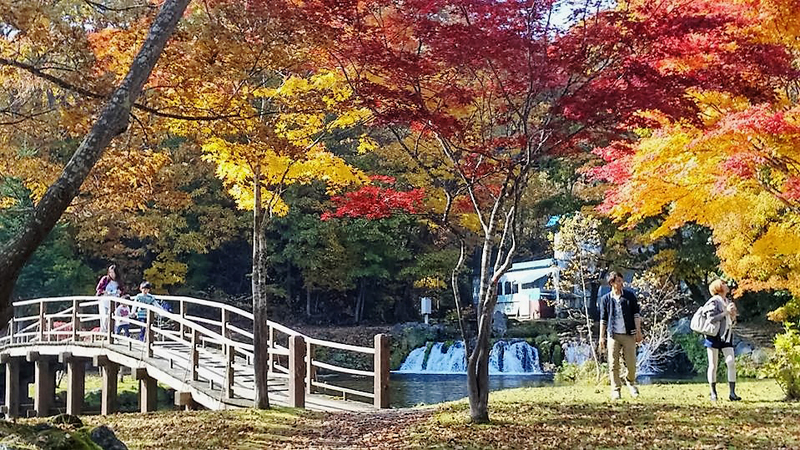 The Japanese-style Fukidashi Park is filled with colorful red leaves. The spacious grassland is a good place for family to enjoy an afternoon under the sun and enjoy the koyo.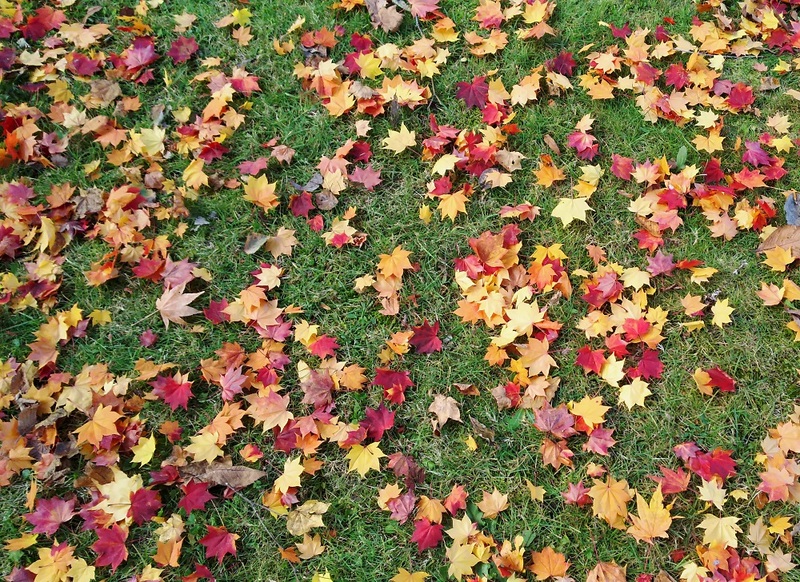 Fallen leaves towards the end of Autumn.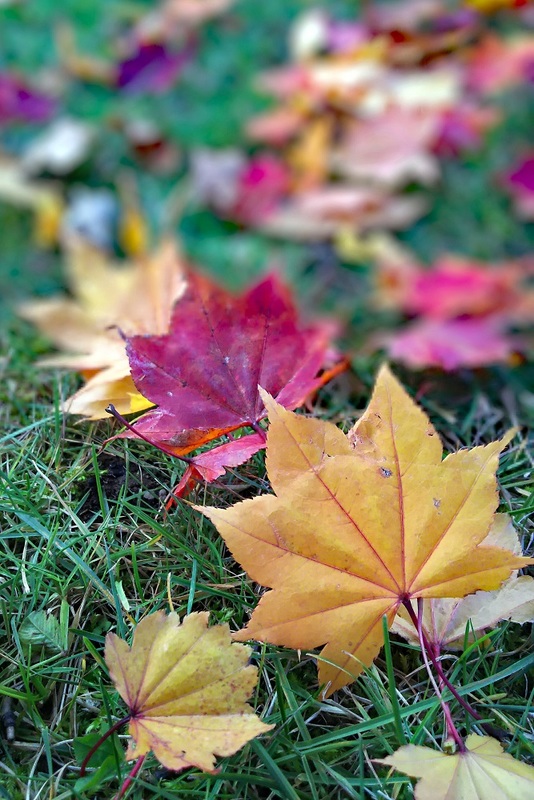 Unlike flower season in summer, the red and yellow leaves in autumn only last for one or two weeks.
In addition to the gorgeous colors, Fukidashi Park is also renowned for its water quality. The spring produces about 80,000 tons of mineral water a day. The mineral water in Fukidashi Park is famous for its taste and has been selected as the Number 1 Spring Water in Japan. Remember to fill up your bottle there! Also, your rice will be glittering when cooked with Kyogoku's spring water.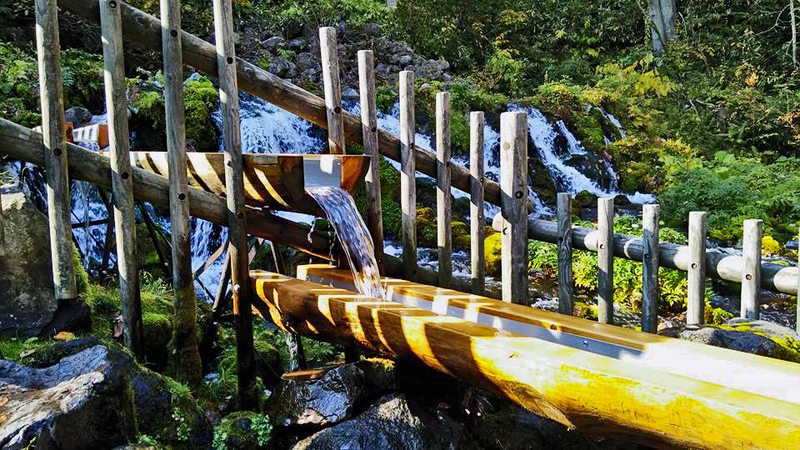 The famous spring water at Fukidashi Park.
Jozankei・Hoheikyo Dam
Located just a few minutes of Sapporo, Jozankei is a valley surrounded by mountains and trees. There are various spectacular spots to enjoy the charming scenery of yellow and red leaves. A stroll along the Futami-Jozan Walking Trail or checking the Toyohira River from the Futami Suspension Bridge are some of the best way to spend the afternoon in the area.
Hoheikyo Dam is an arch concrete dam built in 1972 to control the flooding of Toyohira River and harness its power for hydroelectricity. The height of the dam is 102.5 meters, which is equivalent to a 34 storeys building. Located inside Shikotsu Toya National Park, Hoheikyo Dam is about 2km from the park entrance. As the dam is environmental protection area, there are no cars, bikes or motorcycles allowed. It can only be accessed by foot or designated hybrid electric buses.
Park Admission Fee: Free
Electric Bus: 600 JPY / Adult & 300 JPY / Child (round trip)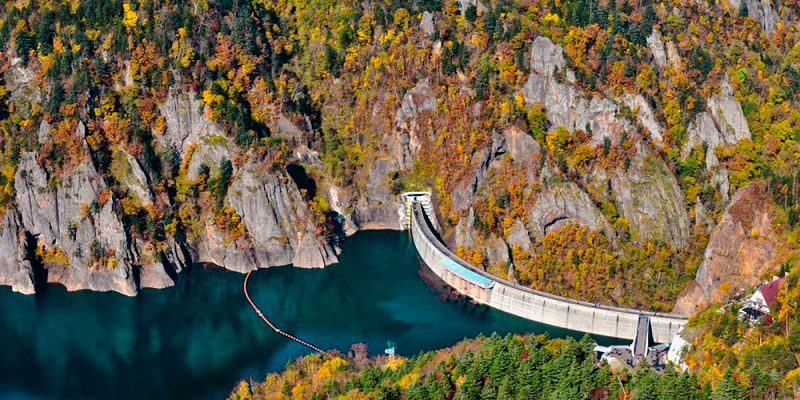 Hoheikyo Dam is a famous place for foliage viewing. The dam is discharged during June to October for sightseeing purpose.
©Welcome to Sapporo

Foliage view from Hoheikyo Dam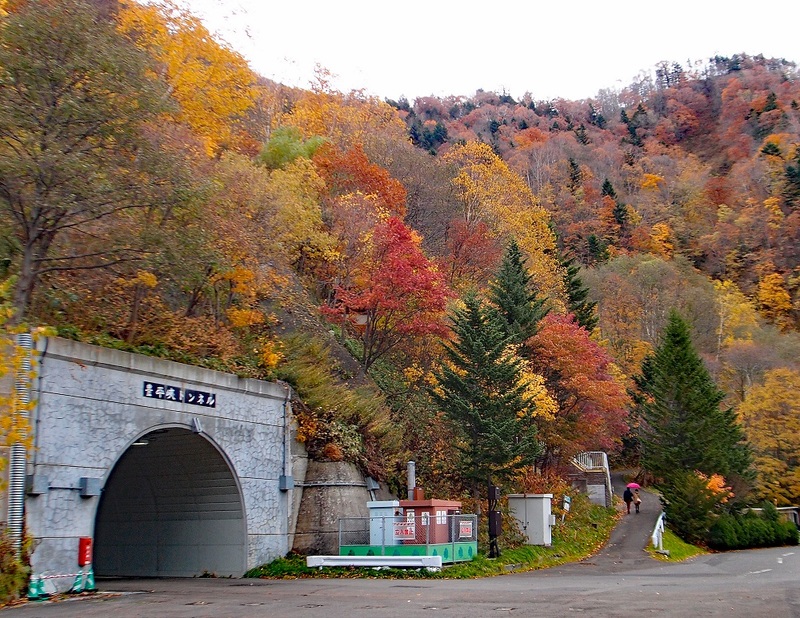 The mountain surrounding Hoheikyo Dam is dressed up in yellow and red during Autumn.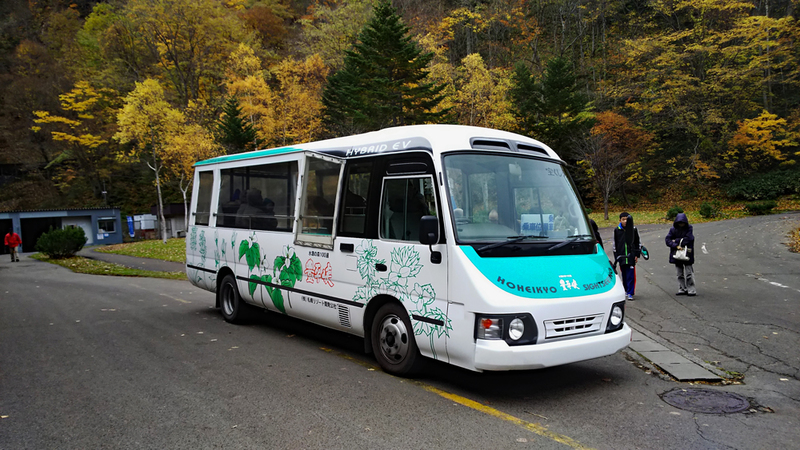 Hybrid electric bus at Hoheikyo Dam.
The second gorgeous foliage viewing spot is the Futami Suspension Bridge, which is located in Jozankei village. It is about 5 minutes away by car from Hoheikyo Dam.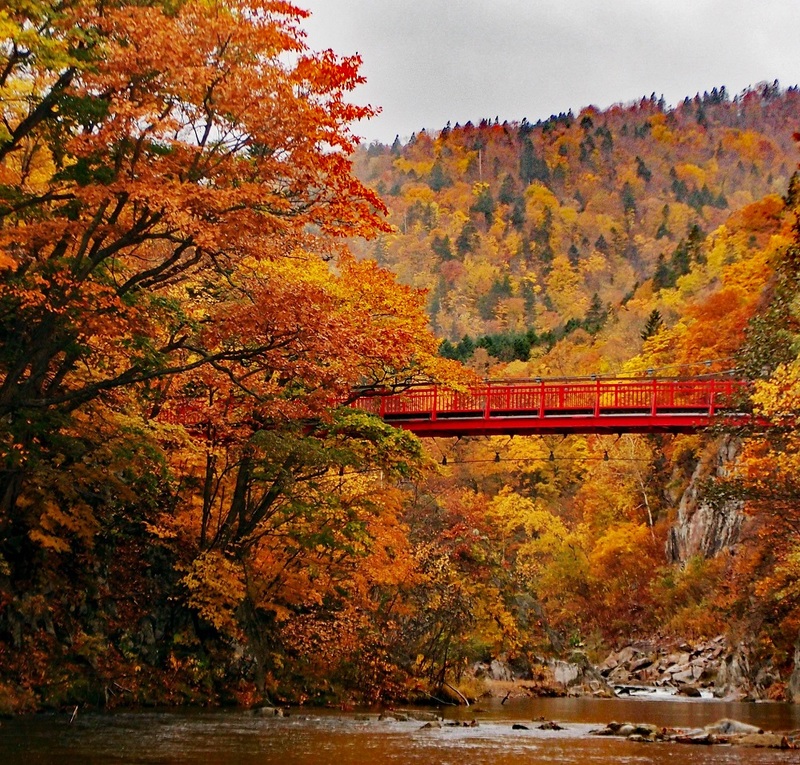 Futami Suspension Bridge is one of best scenic spots for foliage photos in Jozankei.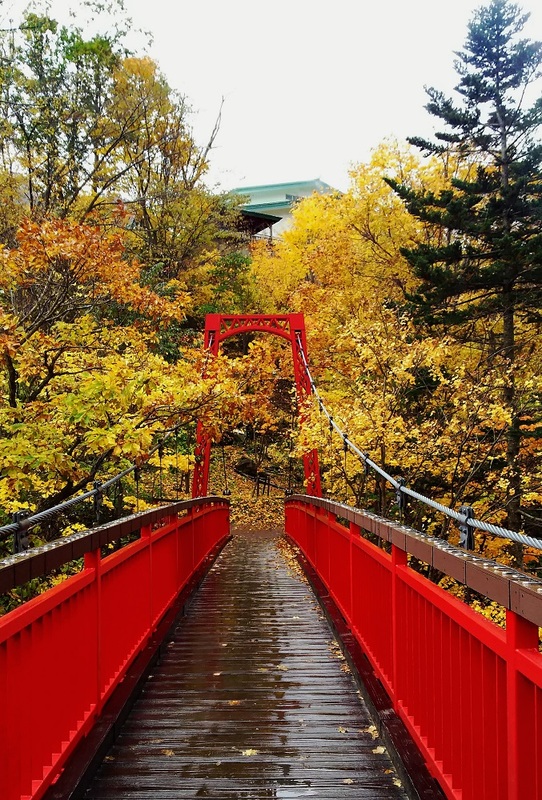 Futami Suspension Bridge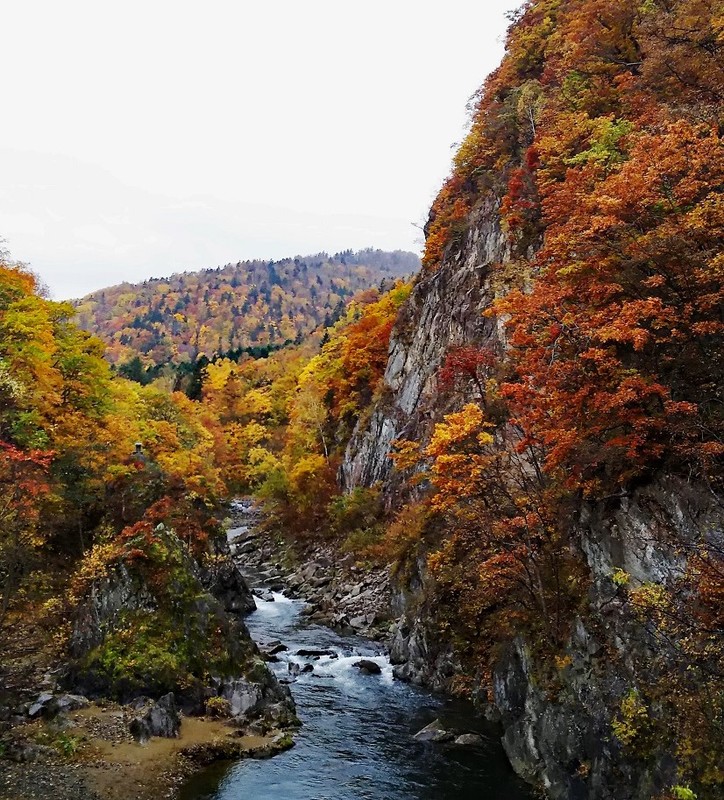 Beautiful view of Toyohira River.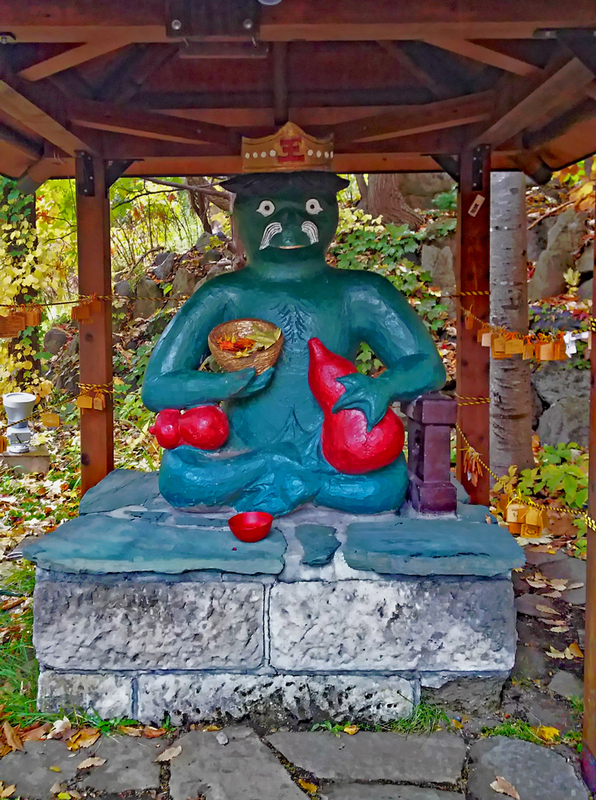 Kappa is used as the mascot of Jozankei and there are many Kappa statues found throughout the village. The picture above is Kappa Daio, which means King of Kappa in Japanese.
Jozankei is one of the top three onsen districts in Hokkaido. In addition to the splendid views of vibrant colors, you can add to your day trip a visit to one of the excellent onsens in the area. There are numerous onsens in the area, but one that should not miss is Hoheikyo onsen. The hot spring water is drawn directly from underground without adding water or being re-heated. This is a truly natural onsen.
Hoheikyo Onsen is a traditional Japanese natural hot spring, which offers both indoor and outdoor baths.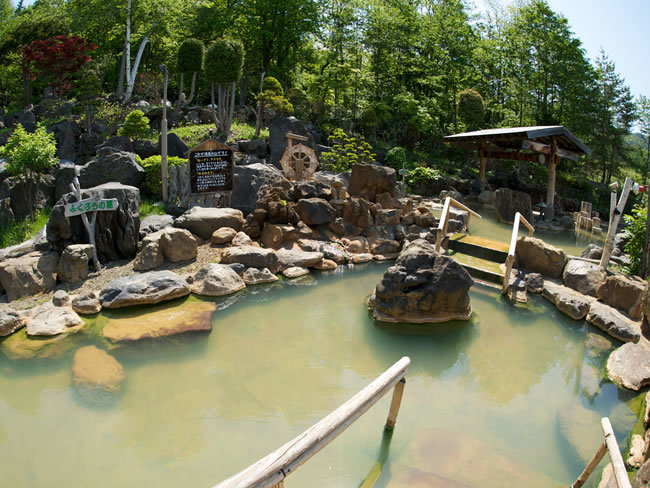 In addition to the natural hot spring water, Hoheikyo Onsen offers outdoor baths surrounded by beautiful nature.
©Hoheikyo Onsen
Ginkgo Avenue, Hokkaido University
Hokkaido University was established in 1876 as Sapporo Agricultural College by Dr. William Smith Clark. It was officially renamed as Hokkaido University in 1947. Located in downtown Sapporo, its historical buildings, elm and ginkgo trees are always the big draws for tourists.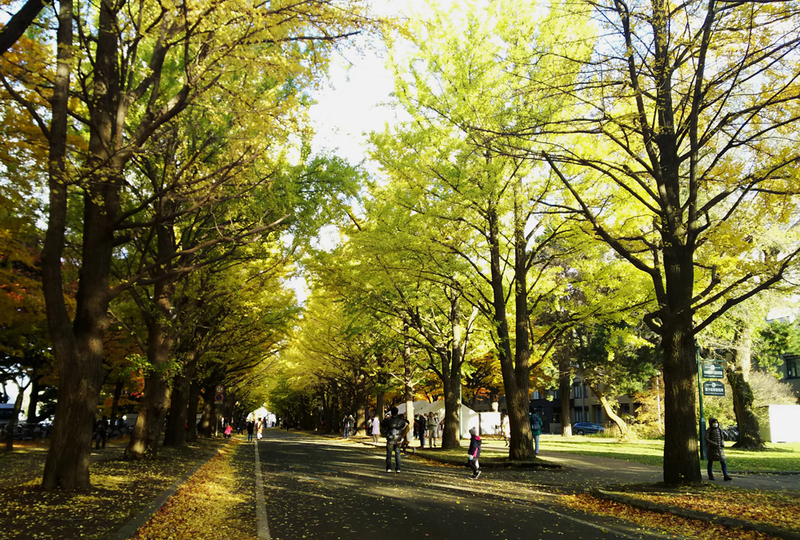 Ginkgo Avenue, Hokkaido University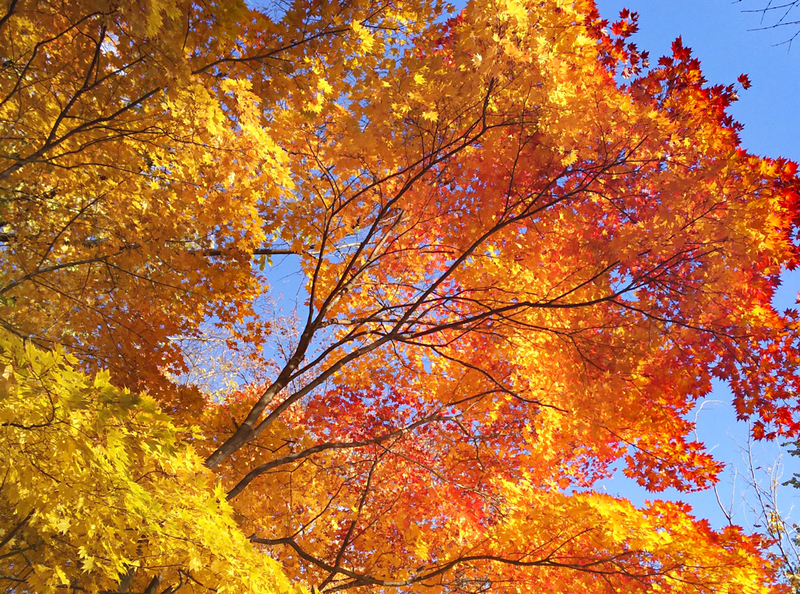 Red leaves descend into the city in the second phase of the season. If you have missed the foliage season in the mountain areas, you can enjoy it in end October or early November in Sapporo City. Located in the downtown Sapporo City, Hokkaido University is one of the good spots to enjoy the ginkgo and colorful leaves.
Hokkaido is truly a four-season travel destination, blessed with distinct scenery every month. Following the gorgeous foliage season, we will soon welcome the white winter in a month's time. If you would like to explore the legendary powdery snow in Niseko, do not hesitate to contact Vacation Niseko's friendly reservation staff for more details.
Related Articles
Why Book Directly?
Experience
Vacation Niseko has over a decade of experience and an unrivalled expertise tailoring seamless winter packages to Niseko.
Seamless
Our extensive range of vacation packages cater to all levels of skiers and snowboarders, offering a wide choice of accommodations to suit your budget, style and location.
Partnerships
Our partnerships allows us to offer you unrivalled access to a range of Niseko's best winter activities and services at the most competitive prices.
Guest Card
Present your Vacation Niseko Guest Card for various special offers and discounts across the resort and beyond.