A Fine Dining Experience at Bistrot Le Cochon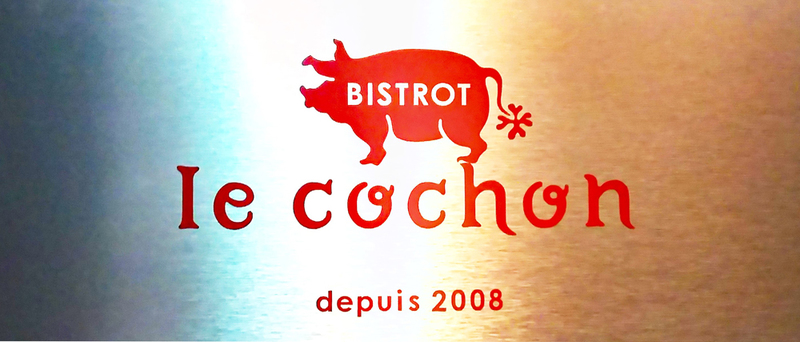 Bistrot Le Cochon is now closed
For Fine Dining options in Niseko, check out our Restaurant Guide!
French cuisine may not be the first thing on your list when it comes to dining in Niseko, but it could very well be! Don't miss the hidden gem Bistrot Le Cochon, which easily ranks among other prestigious options like the Michelin-starred restaurants Kamimura or Asperges.
Located on the ground floor of the Yamashizhen West building in upper Hirafu Village, Bistrot Le Cochon is a boutique restaurant headed by Chef Kazuhiko Kojima which offers home-style French cuisine. A fine lover of Hokkaido's taste, Chef Kaz uses around 90% of ingredients derived from local produce. From farm to table is an apt description for Bistrot Le Cochon, as Chef Kaz uses the geographic advantage of Niseko to import the produce from nearby farms.  
The elegant interior of Le Cochon makes it a great place for dining on a special date. The ambience is welcoming and relaxing. The impeccable service provided will definitely make your night a memorable one. Le Cochon's staff members are very professional and will never let you go empty-stomached. The complimentary rounds of freshly baked bread and truffle butter were hard to resist while we dissected the menu. However, be sure to keep some space for the main course!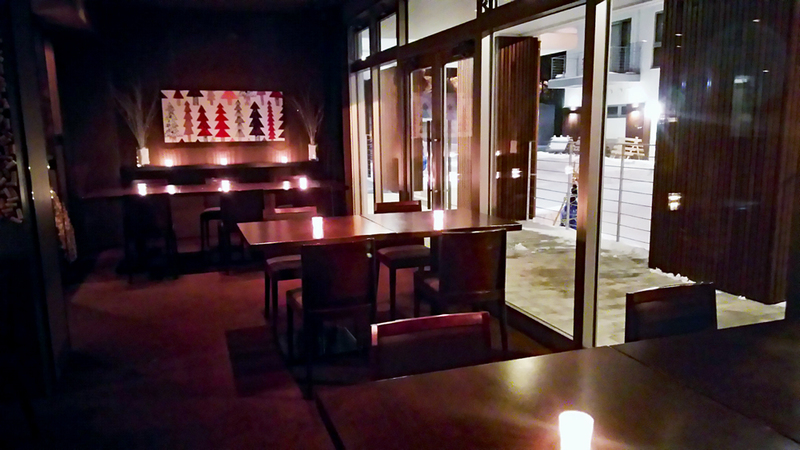 The relaxing and modest atmosphere makes Le Cochon an ideal place for important dates.
Le Cochon showcases a set menu with three courses with about five to six choices per course. We were honored to be invited for a trial dinner a few days ago where we could try all the dishes. French restaurants are usually pictured as having small portions with food artistically arranged. Chef Kaz understands that resort guests are usually hungrier after a long day on the slopes and in the cold. The food portions served here are American-size! Taste is not sacrificed with the bigger portion though. All five main courses were as enticing as expected from what we have read on Tripadvisor reviews. 

Main course for the night:
1. Fish of the Day from Hokkaido
2. Braised Hokkaido Beef Cheeks in Red Wine Sauce
3. Roasted Australian Lamb Rack with Tapenade
4. Sautéed Hokkaido Pork Spare Rib with Mixed Berry Sauce
5. Hungarian Duck Confit with Wholegrain Mustard
Braised Hokkaido beef cheeks easily stole the show on that night. Beef cheeks are the facial muscles of a cow, which are of continual work throughout the animal's life. Braised in rich and deep red wine sauce for more than a day, these tenacious connective tissues are transformed into almighty meaty goodness. The melting tender meat texture blended perfectly well with the red wine dressing, created an unforgettable remarkable flavor. Sautéed Hokkaido Pork Spare Rib is another hot pick for our night. The sticky succulent pork rib is cooked to perfection, with the meat falling off the bone. The mixed berry sauce provided the perfect companion for the greasy spare rib. 

Dessert for the night
1. Apple Tarte with Chai Ice Cream
2. Assorted Ice Cream
3. Warm Gâteau au chocolat with Framboise Sorbet
4. Créme Brûlée with Honey Ice Cream
5. Coconuts Blanc-manger with Mango Sorbet
After the delectable main courses, it was time for the meal's grand finale! Bistrot Le Cochon takes the sweets as seriously as the mains. We were presented with all five desserts for tasting and none of them was of disappointment. The warm gâteau au chocolat and crême brulée were our staff picks that night. Everyone agrees that a perfect crême brulée should come with a creamy delicate custard filling topped with a thin layer of crispy caramelised sugar. It is always an exciting moment to crack it open with light tap using your small spoon. This was exactly how this velvety crême brulée was prepared. The deep taste of Hokkaido milk has added more colors to the intense flavor of the crême brulée. The warm gâteau chocolat is perfect for those who wants a rich and moist cake with a deep sensational bitterness.
It was a jubilint dining experience at Bistrot Le Cochon. It is unquestionably a restaurant to be included in your list if you are after a fine dining experience. This exceptionally high quality restaurant is always in high demand and an advance reservation is recommended. The restaurant can cater special dietary requirement if you inform them in advance.  
SNOW SEASON (DECEMBER-APRIL)
DINNER:    3-COURSE….¥ 8,800 ~
OPENING HOURS: 18:30 - 23:30 (daily)
PHONE: (+81) (0) 136 23 2312
LOCATION: 189-16 Yamada, Kutchan, Abuta District, Hokkaido Prefecture 044-0081, Japan (click to open the map)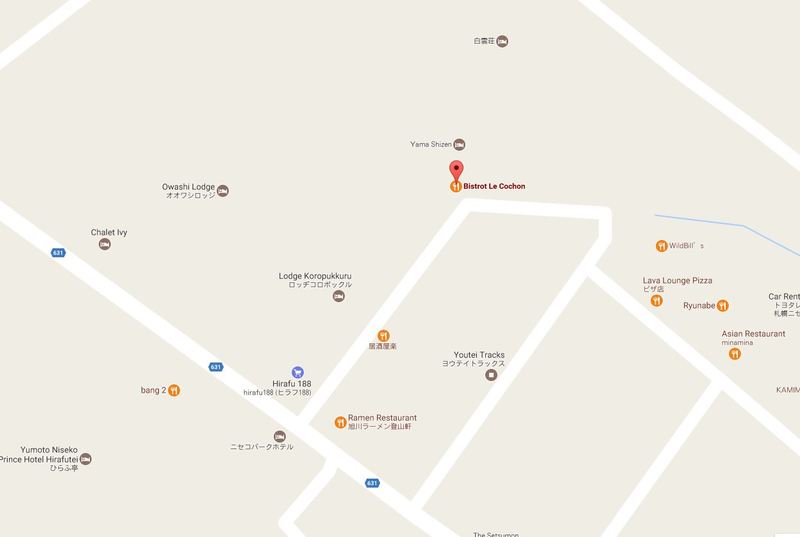 Location of Bistrot Le Cochon