The ever-changing Niseko: recent development highlights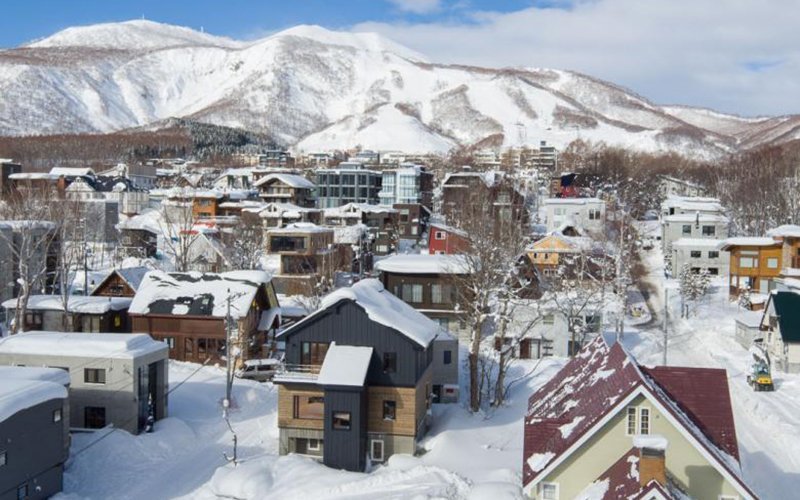 Niseko continues to be the most exciting ski resort in Asia in terms of new developments. The incredible and plentiful powder snow that blesses this area is no longer a secret, and it is attracting more visitors each year. New developments are necessary to keep up with the increasing demand to provide the best ski vacation experience possible. Here are a few new developments we chose to highlight to keep you up to speed with the ever-changing Niseko!
Tellus Niseko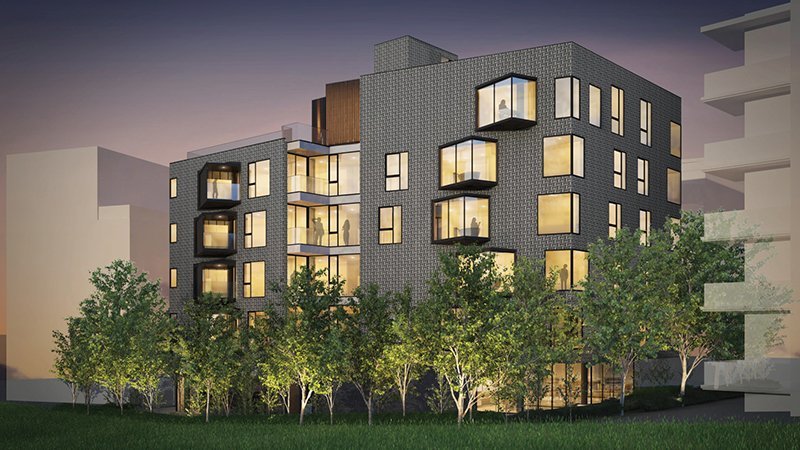 Tellus Niseko exterior CGI
Tellus Niseko is a luxury property that is scheduled to open during the 2019 summer season. Vacation Niseko is excited to announce we will be managing this high-end development! Focused on taking inspiration from the natural beauty of the area, Tellus Niseko will give guests a premium ski holiday experience. This property was designed by the renowned Riccardo Tossani who has greatly contributed to Niseko's development with planning as well as properties such as Aspect, Muse Niseko, and Forest Estate.  A few words directly from the Tellus developers:
"Your Slice of Heaven on Earth"
"A convergence of luxury design and the exquisite beauty of nature in Japan's unique alpine environment. It is a pact with the elements of Hokkaido from which emerges warmth and inspiration. Tellus Niseko is the timeless embodiment of nature's charm and mystique nestled in the stunning landscape of Niseko."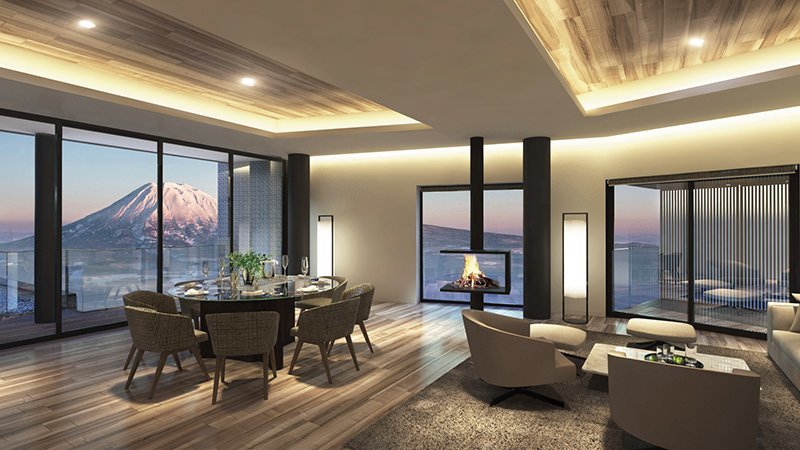 Tellus has it all. Snagging a sought after upper-Hirafu village location, this property is an easy walk from the ski lifts as well as the famous Niseko restaurant and nightlife scene. The building's character is drawn from Niseko's mountain paradise and is built to ensure both sustainability and longevity. Just as the physical building itself, the premium amenities that come with staying at Tellus are as good as it gets. Every unit features a private natural onsen to relax and soak in as you take in exclusive views of Mt. Yotei and the ski resort. The property will also have a private owner's wine cellar in the basement to store and indulge in the finer bottles. Even thought Niseko is famous for food, you don't have to venture outside of Tellus to experience fine dining. A high-end, Michelin star Italian restaurant is planned to be housed within the building, giving guests exclusive access to wonderful food. If that wasn't enough, there will be a private 24/7 concierge service to help with everything and anything during guests' Niseko vacation. This includes transportation and limousine service to transport guests as they like.
Register your interest to stay at Tellus Niseko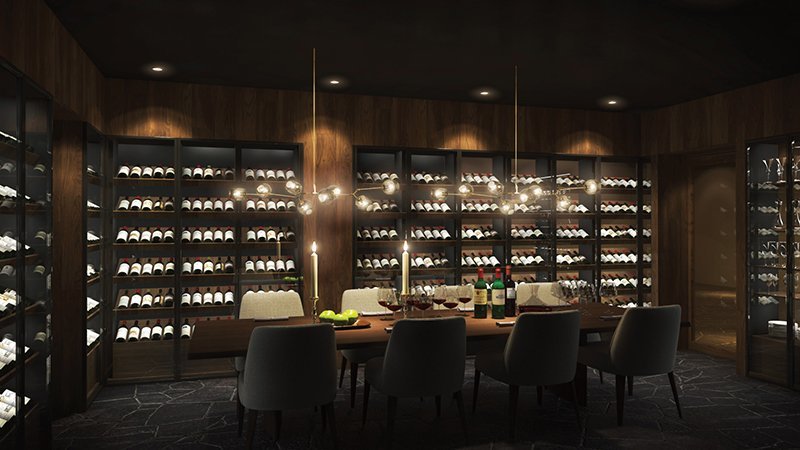 Owners Private Wine Cellar.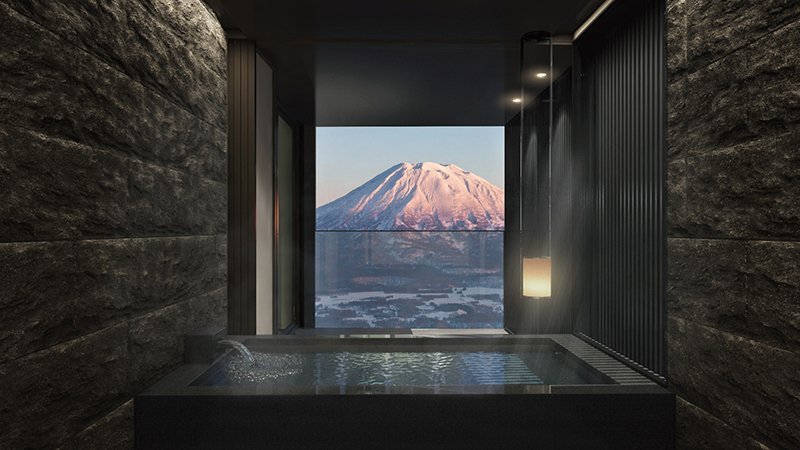 Every Tellus unit features a private natural onsen with a Mt. Yotei view.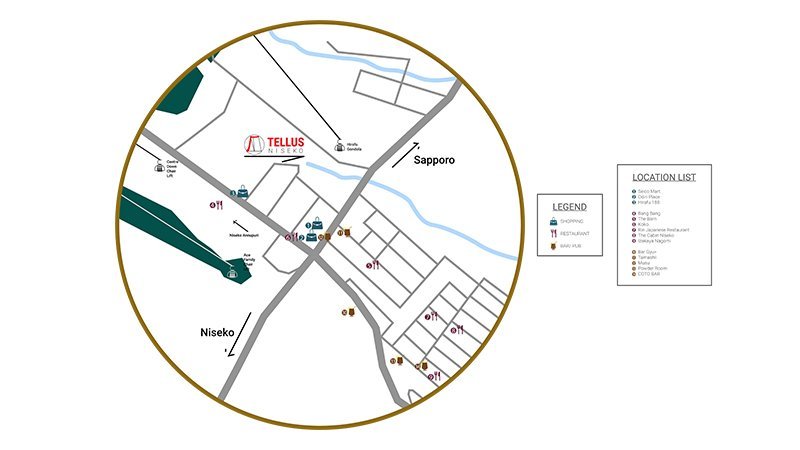 Tellus Niseko's sought-after upper Hirafu location.
Learn more about Tellus Niseko
Park Hyatt Niseko Hanazono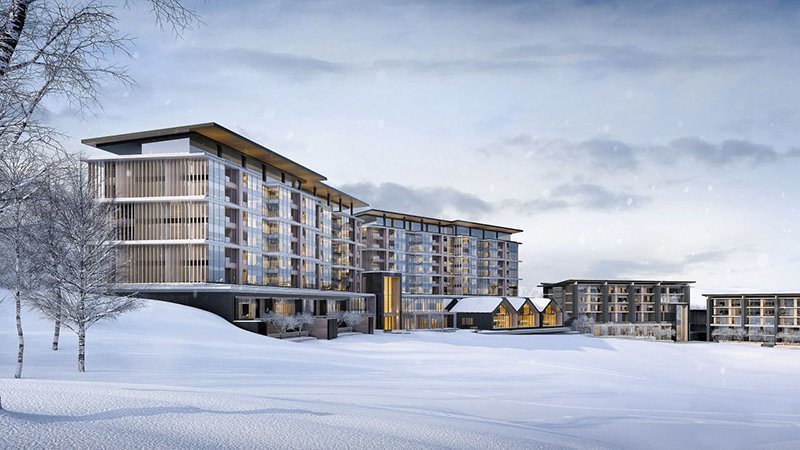 Scheduled to open during winter in 2020, the Park Hyatt Niseko Hanazono will be the first of its kind in Asia. Located at the base of the Hanazono Ski Resort, this luxury residence will provide the first ski-in ski-out accommodation at Hanazono. Moreover, this the first major accommodation development on the Hanazono side and will inevitably spark more development in the sought-after area. Designed for the discerning, affluent business and leisure guest in mind, this property has everything. Including a natural onsen in the building as well as ski rental and retail, this development is "setting a new benchmark for luxury hotels in Niseko".
Intuition Niseko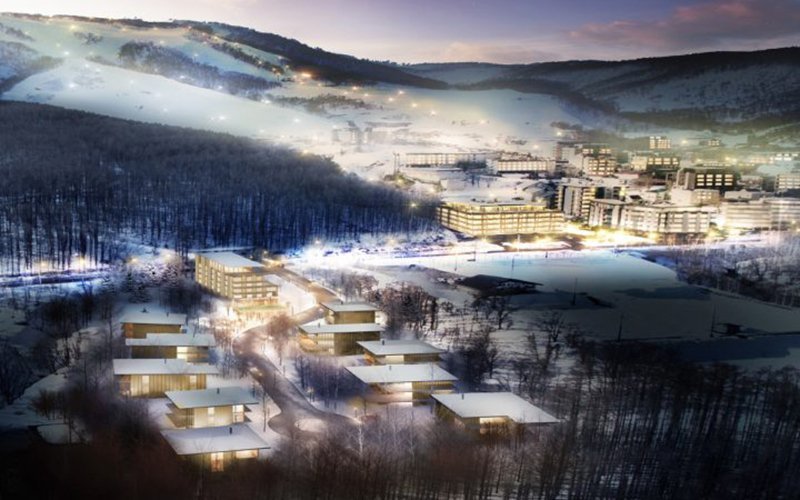 Located in a peaceful forest, steps from AYA and the Ace Family Quad Lift, Intuition is a sister development of Elevation Hirafu, the pre-eminent estate master planned by Kengo Kuma & Associates, which was sold out in one season. Expected to fully complete by winter 2020, this 15,000 square meter estate in central Hirafu village will comprise 10 ultra-luxury villas and a six-story building of residences, dining, fitness, onsen and concierge facilities exclusive to the Intuition residences, all with spectacular views of the surrounding nature and convenient access to the slopes.
Inquire about Intuition Niseko 
The Maples Niseko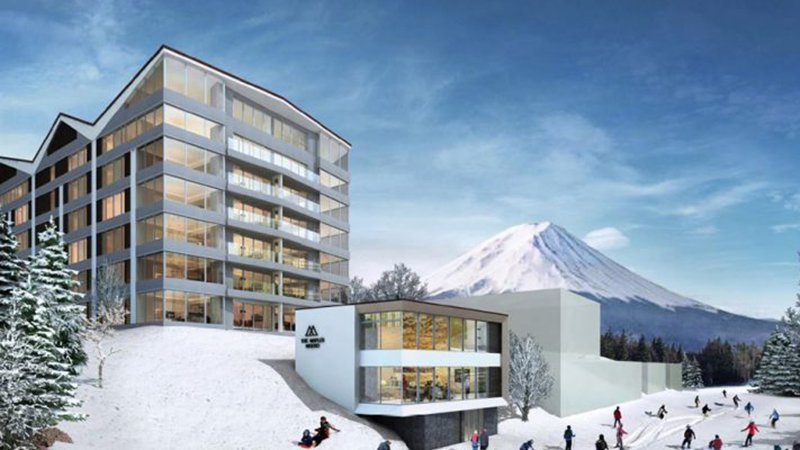 The Maples Niseko is yet another highly anticipated ski-in ski-out development. The grand opening of this 73 unit property is scheduled for December 2018. Rooms range from studio, 2 bedroom, 3 bedroom, and penthouses. The thoughtful design ensures this property focuses on large, livable spaces and functional kitchens. The amenities in Maples are centered around the needs of residents, with a ski room and cafe with direct access to the family ski run and lift. The sophisticated condominium-hotel boasts a series of apartments and penthouses that have been thoughtfully created with a keen awareness of the encircling beauty. 
Register your interest to stay at The Maples Niseko
Panorama Niseko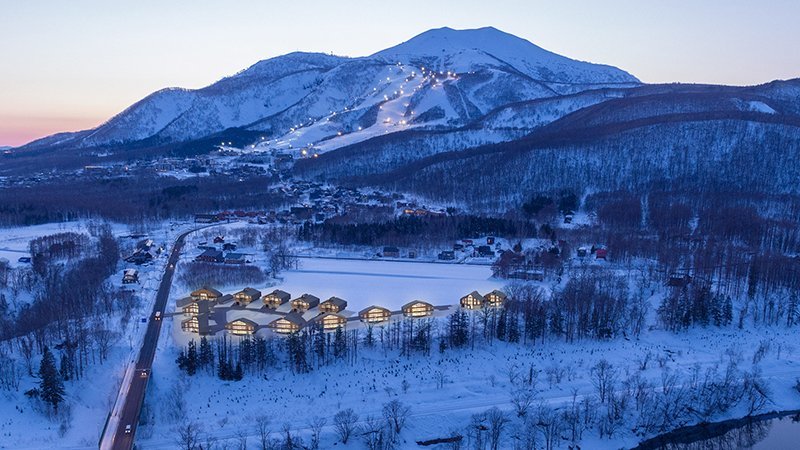 Panorama Niseko is a collection of 12 fully furnished villas located just outside the main Hirafu village. The location is very close to the busy Hirafu streets, but just far enough away to provide some solitude next to the ever-flowing Shiribetsu river. These high-end villas will surround a landscaped Art Park, creating a new and unique environment to Niseko. Each villa will boast its own private onsen and wonderful views of the ski resort and Mt. Yotei. The site construction is already underway, with the clubhouse and the first 6 villas being completed by November 2018.
Register your interest to stay at Panorama Niseko
More Developments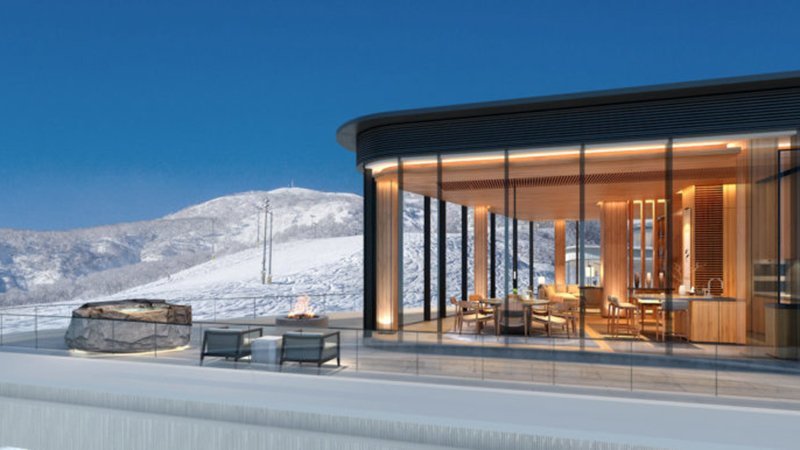 Skye Niseko's Penthouse View
Skye Niseko is one of the newest additions to the luxury apartment selections in Niseko Hirafu. Opening for the season in 2018, this large property is positioned high up in the village in an enviable ski-in ski-out position. There are 105 apartments and penthouses including Studio, 1, 2, 3, and 4 bedroom suites, as well as luxurious Penthouse Suites with private balcony, firepit, and onsen. The apartments are modern, styled with stone and wood finishes and floor to ceiling windows that take in the views of Mt Yotei or ski slopes.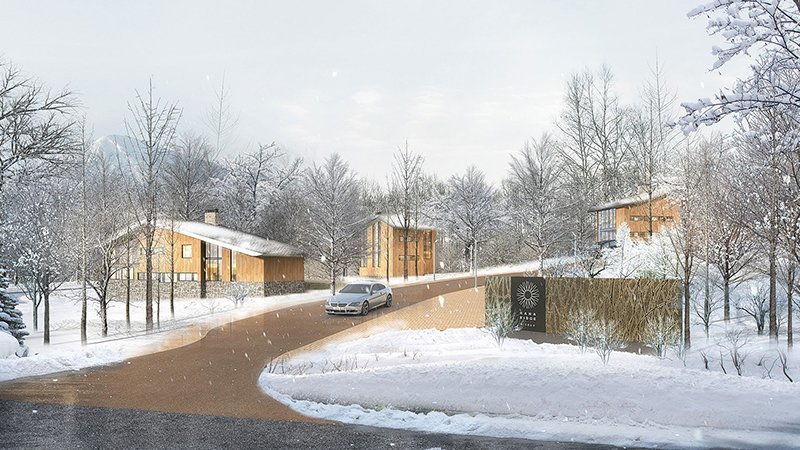 Hanaridge CGI Plan
Hanaridge is a unique piece of land, it's an elevated ridge with beautiful silver birch trees scattered within and it's surround. It's Niseko first luxury chalet and land development with ski in access from the Hanazono ski resort.
Hanaridge is surrounded by protected national park forest making it the most desirable and special location for those desiring an exclusive serene tranquil lifestyle. All the lots at Hanaridge have panoramic views of Mount Yotei and some lots have spectacular views towards the ski fields of Hanazono.
The master plan was well thought out, all the luxury Chalets are positioned privately from each other, ensuring that all plots are spaced a certain distance to gain the best views and some of the silver birch trees are left uncut so all the luxury chalets will be amongst the serene green nature during summer.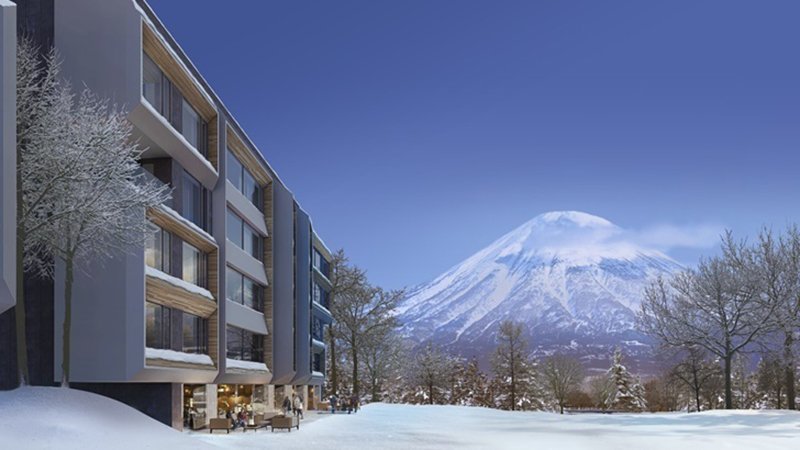 Setsu Niseko
Set on a sprawling 2.5-acre freehold estate just a few minutes walk from the Hirafu gondola, SC Global's latest luxury condominium hotel resort development is named Setsu Niseko.  This large development is planned to hold over 150 freehold exquisitely furnished luxury apartments offering investors a range of apartment options from studios through to the most coveted ultra-luxurious penthouses. The launch of Setsu Niseko is expected to be announced in the second half of 2018. 
Looking for more development news?
Take a look at all out our posts tagged "development", or click one of the buttons to read one of our most recent stories and see how fast things are moving in Niseko!
Koho: a new Vacation Niseko property
2017 Niseko Development Update