Property Spotlight - MUSE Niseko Apartment 401
Sometimes when travelling, you stumble upon a one-of-a-kind place that leaves a lasting impression. MUSE Niseko, a property redefining what design and style is all about, features unparalleled apartments that will make you long for an overhaul of the place you call home.
One of the most strikingly beautiful apartment at MUSE is without a doubt apartment #401, which features 3 ensuite bedrooms. This massive flat spans 201 m² and can accommodate up to 7 guests.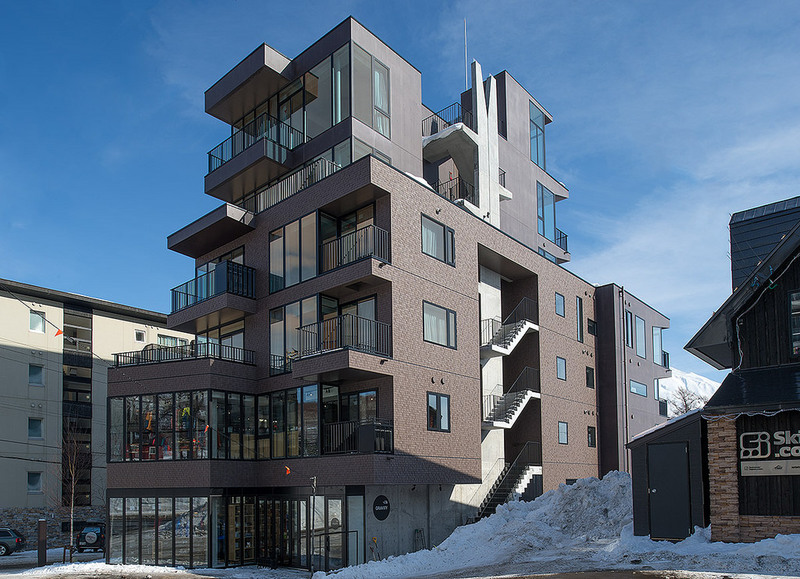 The breathtaking MUSE Niseko is located along the main road splitting the Upper and Lower Hirafu Village.
The large and luxurious common spaces are sure to be a hit among every guest. The designer furniture features clean, modern lines and make the living room a dream area for you to enjoy a drink by the fireplace. Furthermore, the full floor-to-ceiling windows the let you contemplate Niseko's iconic Mt. Yotei. In summer, the large balcony is an inspiring area to savor the unobstructed view while enjoying the region's mild and breezy weather.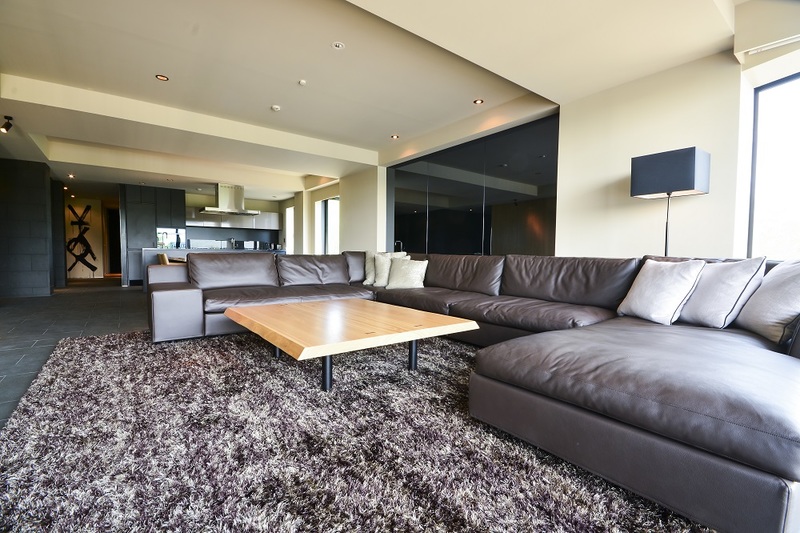 The cavernous and opulent living room is the best place to relax after a day of hard work on the slopes.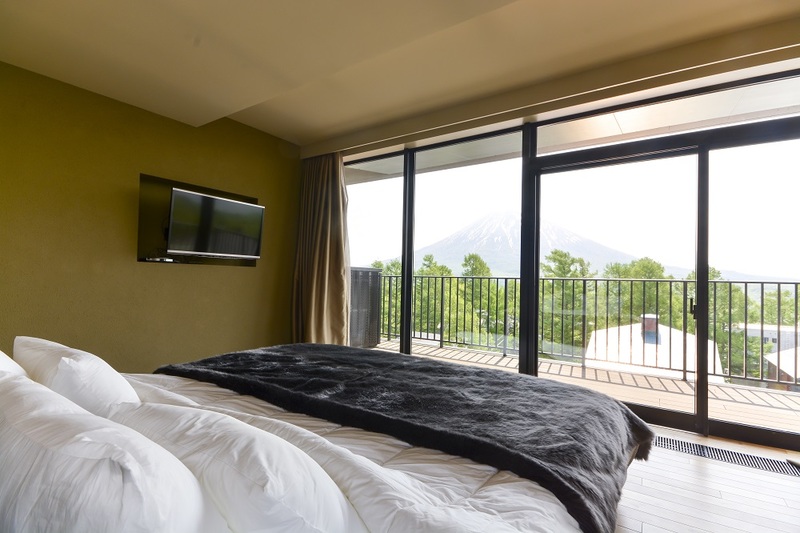 Mount Yotei says hello every morning through the large floor-to-ceiling windows.
MUSE is located in the heart of the Hirafu main village and makes it easy to reach every delightful dining options around such as the Michelin-starred Kamimura restaurant. The apartment also features a fully furnished kitchen with state of the art branded appliances. A tepannyaki grill is also available for aspiring chefs who want to try their hand at cooking Japanese dishes such as okonomiyaki and yakisoba. A massive dining table perfect for dining parties lay in front of the cooking area.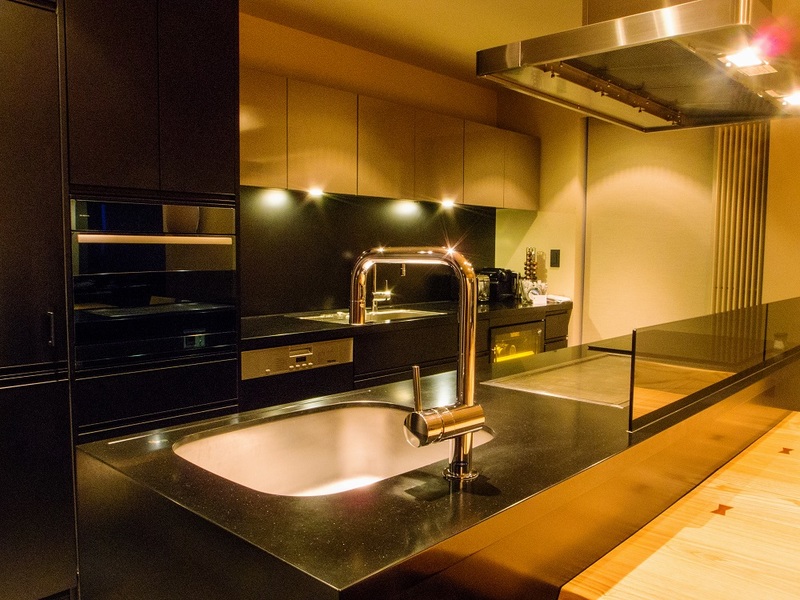 Apartment 401 is equipped with a fully furnished kitchen. The tepannyaki grill is a special feature that is not commonly found in other apartments in Niseko.
Friends and families can gather at the dining area watching the aspiring chefs to prepare dinner for the night.
The 3 ensuite bedrooms offer the guests an elevated experience. The master bedroom features a striking protected view on Mt. Yotei and a large bathtub to soak in for an ultimate relaxation experience. The additional bedrooms can be configured with either a queen size bed or two twin beds.
For even larger group, guests can consider booking the apartment with the adjunct studio #402, which adds another ensuite bedroom. In this configuration, the whole 4th floor is reserved to the party and gives guests a total of 248 m² floor space.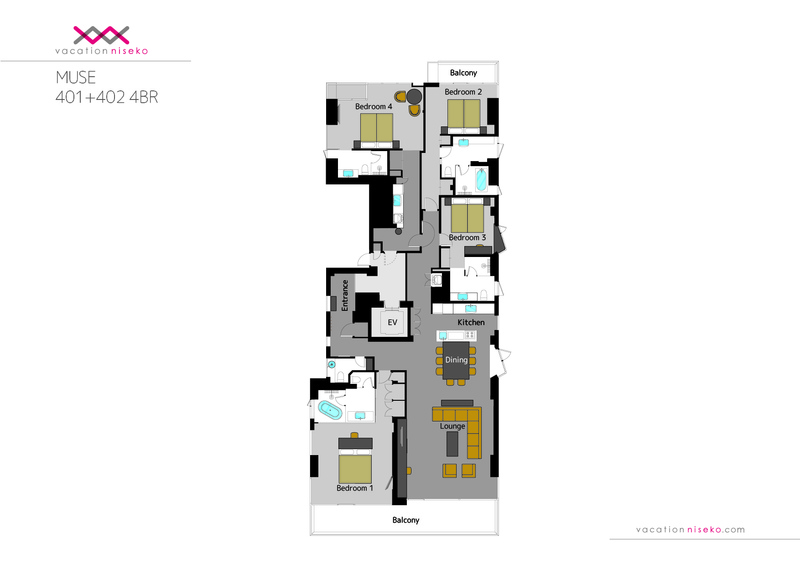 Large group of families or friends can book the 3-bedroom apartment 401 in conjunction with the studio apartment 402, which gives you a total floor space of 248 sqm.
Practitioners of mountain sports will love MUSE's closeness to the ski lifts and the large ski locker room located on the ground floor. A complimentary morning ski shuttle service gives the guests an easy access to an even wider array of ski lifts located around the village. The North Face shop & café is also located on the ground floor and carries the latest gear and exclusive apparel.

The North Face shop & cafe located on the ground floor of MUSE Niseko.
With its unmatched bold design created by Riccardo Tossani Architecture studio, MUSE Niseko immediately became a landmark in Niseko. The sleek reception lobby and apartments alike feature art works by contemporary Japanese calligrapher Rieko Kawabe. If you are looking to spend your next trip in Niseko in style, look no further. MUSE promises to leave you breathless. Currently MUSE Niseko is offering 10% last minute special deal for any bookings confirmed by 31st December. Indulge yourself with a luxury ski trip at MUSE Niseko this winter!
Related Articles
Why Book Directly?
Experience
Vacation Niseko has over a decade of experience and an unrivalled expertise tailoring seamless winter packages to Niseko.
Seamless
Our extensive range of vacation packages cater to all levels of skiers and snowboarders, offering a wide choice of accommodations to suit your budget, style and location.
Partnerships
Our partnerships allows us to offer you unrivalled access to a range of Niseko's best winter activities and services at the most competitive prices.
Guest Card
Present your Vacation Niseko Guest Card for various special offers and discounts across the resort and beyond.