Sansai - Niseko's natural spring vegetable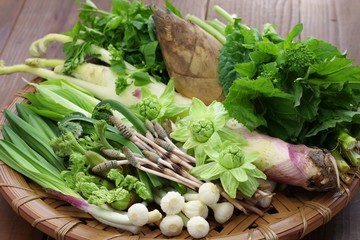 Mountain Vegetables
Whilst the ski lifts in Niseko keep turning until after Golden Week in May, the snow at village level starts to retreat around mid April and it is around this time that visitors can spot one of the first signs of a Hokkaido Spring–Fukinoto – the first of the mountain vegetables to emerge out of the snow.
Fukinoto, or Japanese Butterbur to give its English name, is found all through Hokkaido and is a very common sight along the winter/spring boundary as it bursts to life in huge numbers literally as soon as the snow melts, meaning it is more often than not the first bit of green that residents of Niseko have seen for many months. However there is something else about these heralds of spring that not a lot of people know – they are absolutley delicious.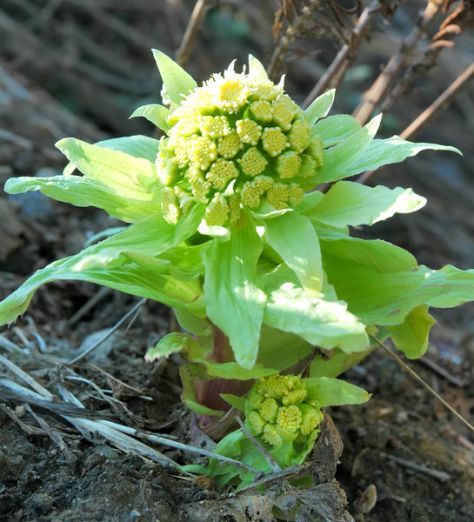 Closely related to rhubarb, they are the first member of the group of wild edibles know as Sansai – literally 'mountain vegetables' – to appear each year starting in late April and continuing through spring and early summer. Sansai picking is a widely practiced tradition amongst the locals, with everyone seemingly having their own very closely guarded secret locations to forage. It is not uncommon when out in the forests at this time to be surpised suddenly by the face of a local obachan appearing out of the foliage. 
The Fukinoto are best picked when they are very small as the larger they get the more bitter they become. When plucked early from the ground they are delicious fried as tempura but a favourite way of using them is to make a kind of preserve known as fukimiso that can be stored well in jars. To make the fukimiso first the shoots are blanched quickly in boiling water then leeched in cold water for 3 hours to remove most of the astringency. the shoots are then chopped finely and stirred in a frying pan with miso and mirin until it achieves a paste like consistency. Perfect to top on rice and enjoy with beer or sake.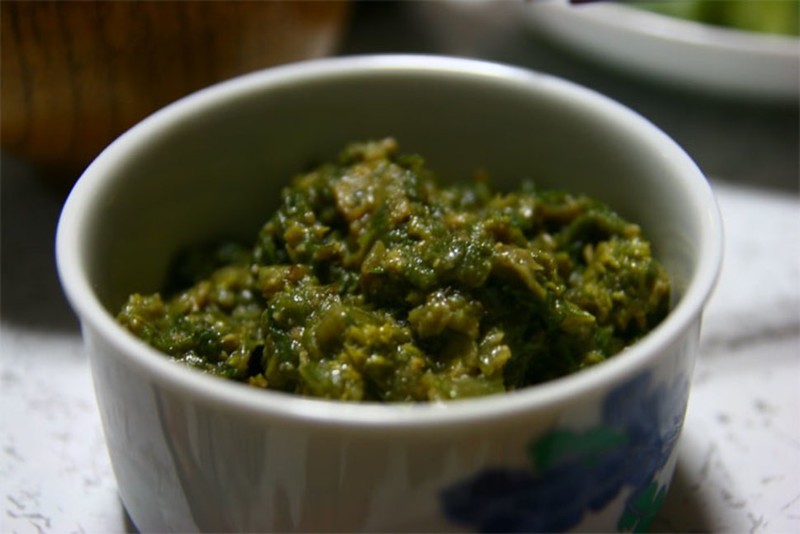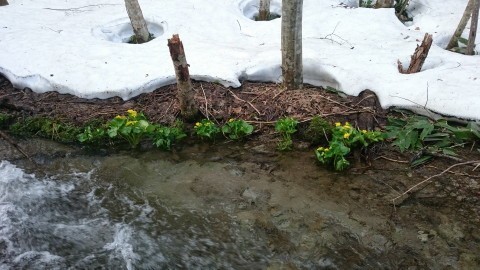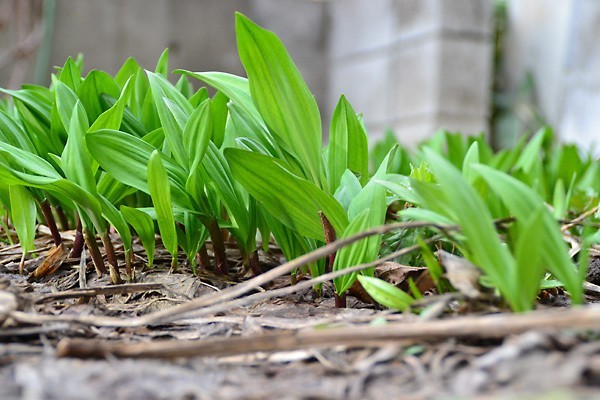 As the Fukinoto get bigger and lose their freshness, new Sansai begin to emerge  – Yachibuki arrives in the first few days of spring and is immediately identifiable by its brilliant yellow flowers and is found growing in large groups alongside streams and rivers with its roots sitting in the water. Like Fukinoto it has a slight bitterness that can be removed by blanching or stewing with miso into a paste. 
One of the most popular wild edibles in native Hokkaido's Ainu culture is the Ainu Negi, sometimes also refered to in Japanese as gyoja ninniku. These are a member of the onion and garlic family and are immeadiately identifiable by their smell. Growing in large clumps on the forest floor they are one of easiest sansai to harvest and the whole plant can be eaten. The leaves make an excellent tempura accompaniment to soba dishes and the stems can be stored for months in soy sauce to give a reminder of spring when we are back in the depths of winter. Much like their garlic relatives, the health properties, especially used as an immune system boost when catching a cold, are well known.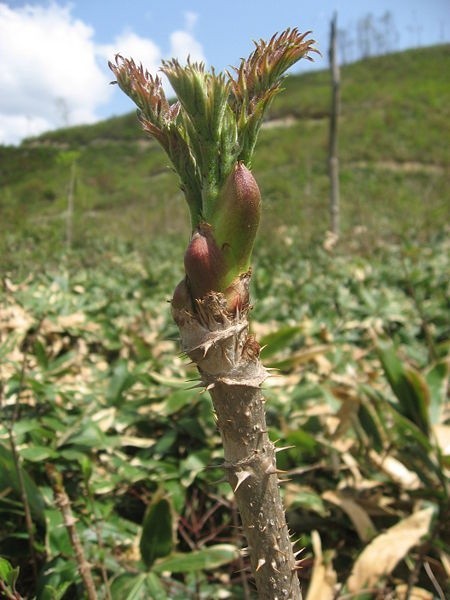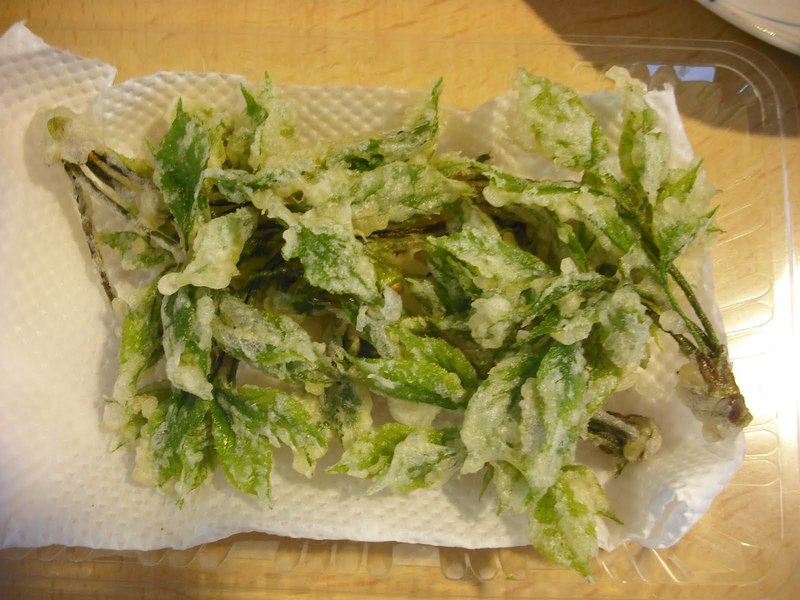 Following closely after the emergence of the Ainu Negi the sansai season starts to get really serious as the buds of the Tara No Me tree begin to ripen. This tree, found throughout the Niseko area along side well drained slopes is among the most prized of all the wild edibles of the area. Its thick tough single stems are studded with nasty thorns, all in total juxtapostion to the buds which are soft and turned almost creamy after being fried in tempura batter.
As spring gives way to summer and temperatures pleasantly climb more and more species emerge to delight the forager. Udo, pictured above, can be cooked much the same way as Tara No Me with the leaves making a nice crispy tempura. The stems are quite bitter raw and must be soaked in baking soda solution overnight before they are sliced up thinly and eaten like sashimi. Add to this the multitude of edible bracken, ferns and fungi and you have enough to keep the attentive sansai enthusiast well fed until the snows return.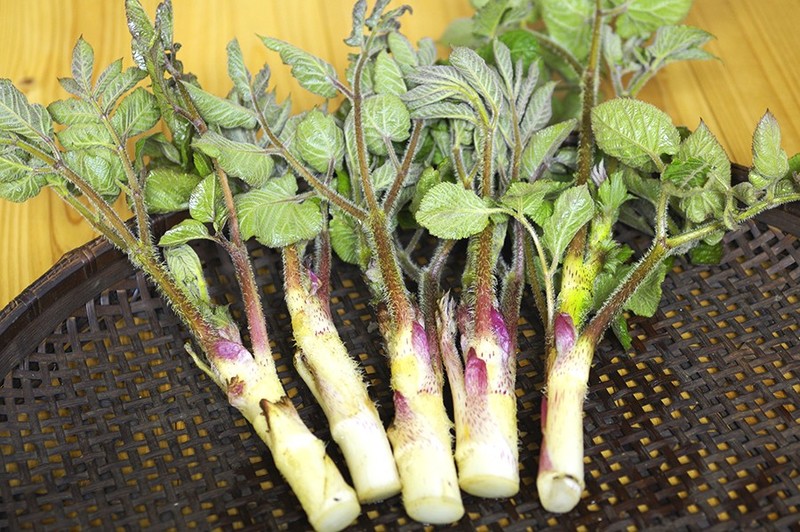 So, if you are lucky enough to visit Hokkaido during the spring, as everyones gaze is up at the beautiful Sakura blossoms, cast a glance downwards, you may spot one of the regions other famous flora, and you may even bag lunch in the process!.
If you are planning a visit to Niseko in Spring or at anytime, please contact Vacation Niseko if you have any questions!