Hokkaido Road Trip: Akan Mashu National Park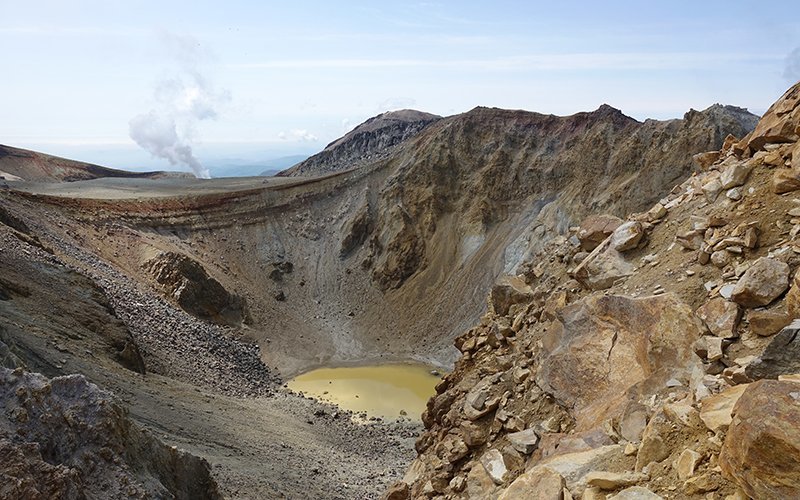 Rugged Mt. Meakan
If you love nature, you will love Hokkaido. The far north island of Japan attracts both domestic and international tourists who want to venture into Japan's wilderness.  An astounding 10% of the total land in Hokkaido is protected by 6 different National Parks, each with unique terrain and varied plants and animals. The vast National Parks cover a lot of ground, and are the perfect reason to take a road trip around Hokkaido!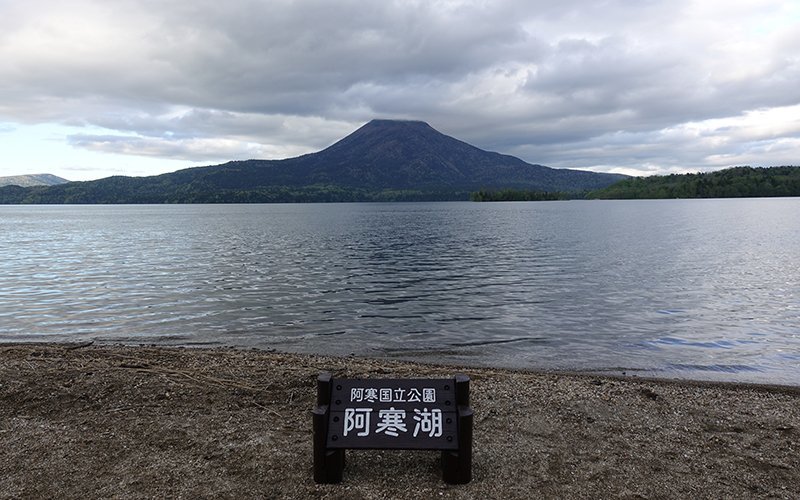 The shore of Lake Akan
Akan Mashu National Park was established on December 4th, 1934. Located in east Hokkaido, it is a sizable drive from Niseko or New Chitose Airport. Driving from Niseko will take you just over 5 hours to reach the Akan area, but it is more than worth the trek! This national park is famous for its crystal-clear lakes, volcanos, and onsen (hot springs). Akan is wonderful to visit any time of year, even in the cold and snowy winters. We took a trip in late spring, where the weather is mild, the hiking trails are just opening, and the volcanic peaks are still showing traces of snow from Hokkaido's strong winter.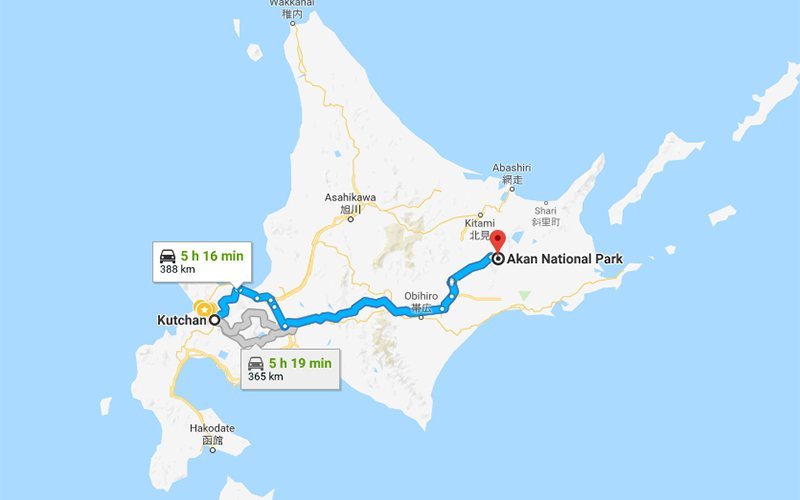 Google estimates just over 5 hours by car from Niseko to Akan Mashu National Park
Hiking Mt. Meakan
The first step on our agenda to explore the area was to get a better understanding of the Akan Volcanic Complex. This group of volcanos surrounds Lake Akan and gives the area its striking scenery and plentiful hot springs. There is no better way to appreciate the beauty of Akan than by hiking the highest peak, Mt. Meakan! As an avid hiker, I can say that this is one of my favorite and most rewarding hikes I have ever been on. The trailhead begins near Nonaka Hot Spring, in the Lake Onneto area. Climbing for about 1.5 hours gives hikers some of the best views on Hokkaido.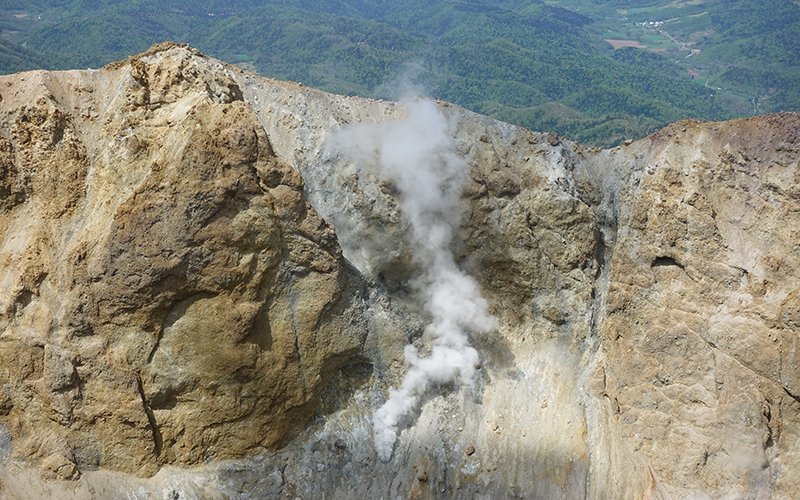 A smoking fumarole on Mt. Meakan
Mt. Meakan is a very active volcano. So active that you can hear, see, and smell it on the peak! There are several fumaroles shooting out sulfuric gas into the sky. These openings in the mountain are loud, making a sound similar to a rocket taking off! These are truly a sight to behold, and it reminds you that you are standing on top of one of the most active volcanos of Hokkaido.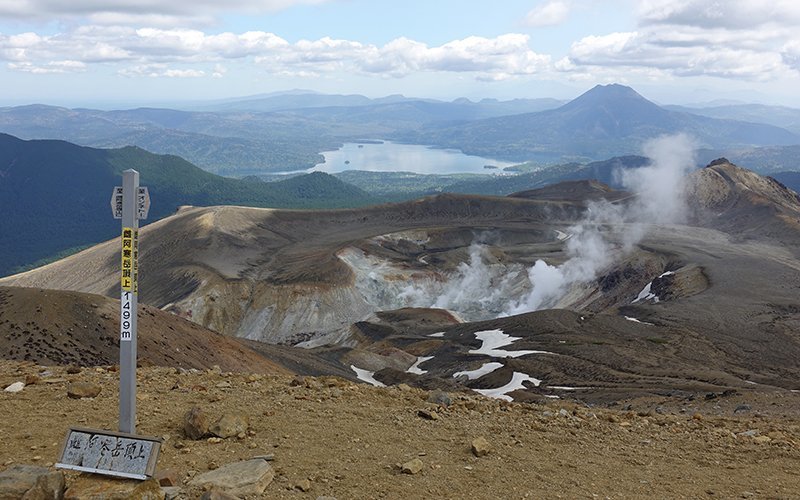 Meakan summit at 1499m, looking down on Lake Akan and Mt. Oakan
From the peak, the view is incredible. Meakan is the highest volcano in the area, so hikers are rewarded with grand views of Lake Akan and the neighboring Mount Oakan, as well as smoking volcanic peaks in-between. Just south of Meakan is Mt. Akan-Fuji, a perfectly shaped peak resembling Mt. Fuji.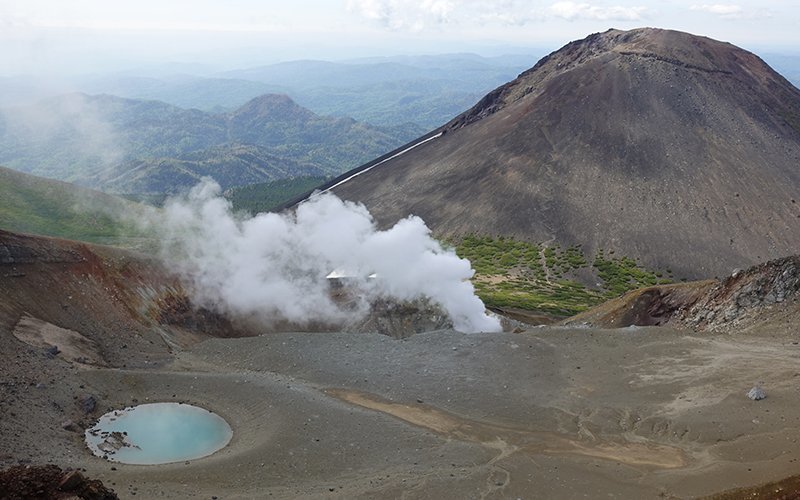 Mt. Akan Fuji, more volcanic gas, and green alpine lakes
If you continue on the loop back to the trailhead, the hike will take around 4.5 hours, passing through viewpoints of Daisetsuzan National Park peaks, lush forests, and the shores of Lake Onneto. This rewarding loop is a hiker's dream!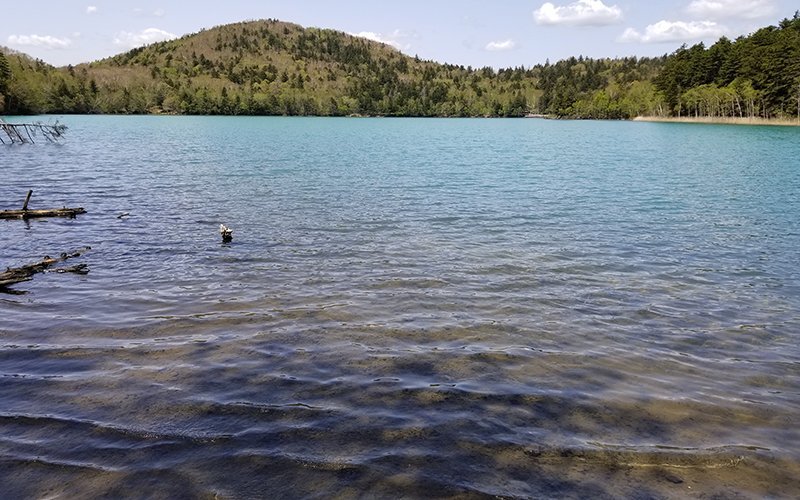 The clear waters of Lake Onneto
Hotels and Onsen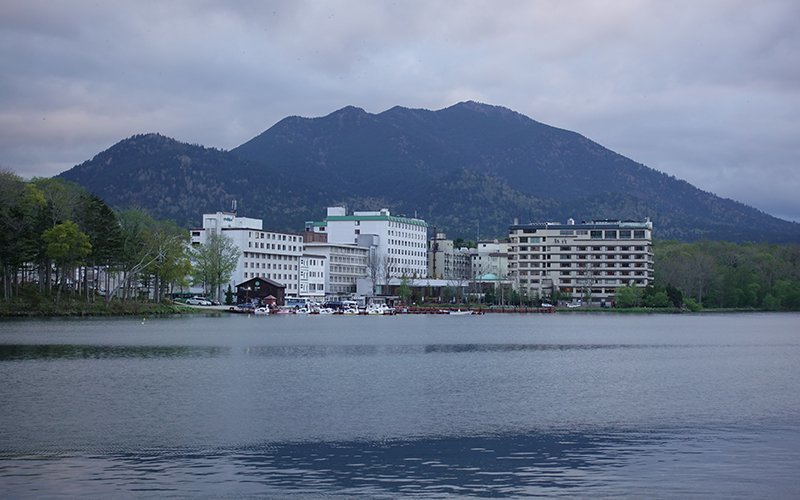 Hotels tucked between Lake Akan and the surrounding volcanoes
Tired and sore from the big hike? I certainly was. Luckily onsen are plentiful in the Akan area, as you would expect from such a volcanically active region. Hot springs come in all shapes and sizes in Lake Akan areas, from day trip baths to luxurious onsen hotels. The south side of the lake to a central hotel and shopping area that has everything you need to enjoy your stay. Large lakeside hotels make up the majority of the village and are a spectacular place to spend the night. Most all of them include large onsen, only available to hotel guests.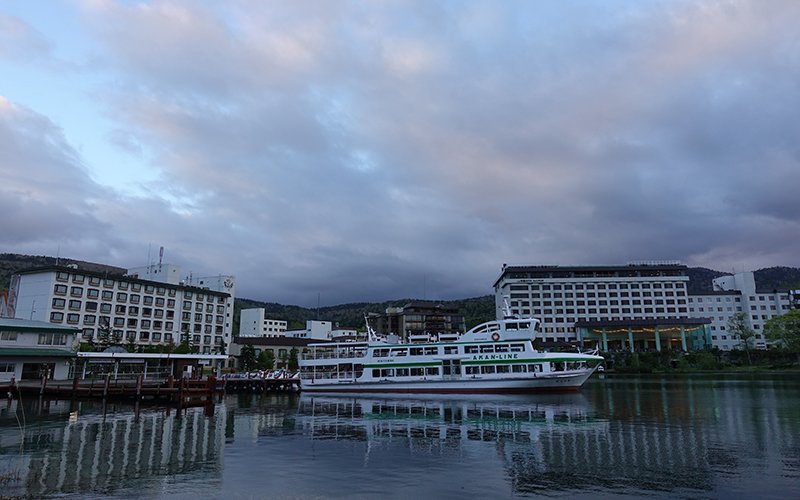 Luxury hotel options are plentiful at Lake Akan
Hotel Akan Yuku no Sato Tsuruga is one of the famed luxury hotels with lakeside onsen. This Hotel features a rooftop onsen for unbeatable Lake Akan views while you soak your worries away. There is also a large outdoor bath at the shore of the lake, seeming to blend into the fresh Lake Akan waters.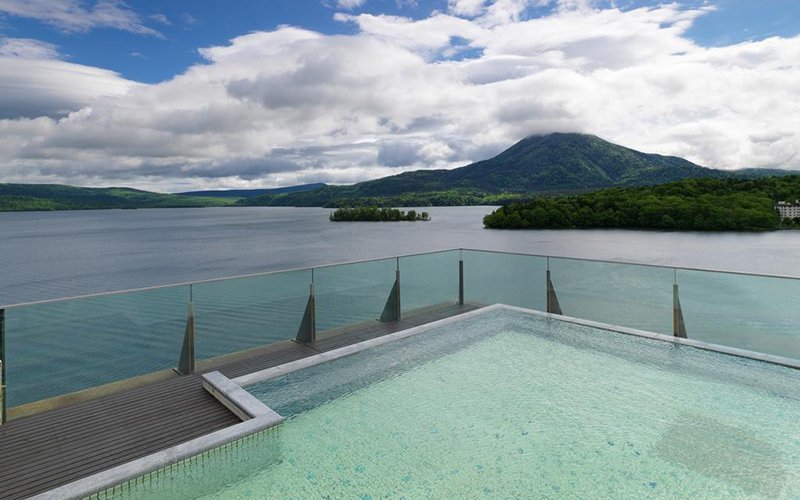 Akan Yuku no Sato Tsuruga rooftop onsen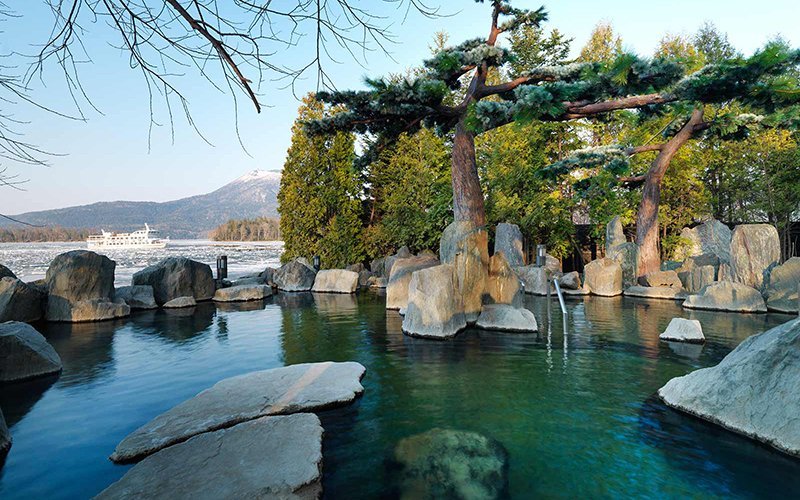 Tsuruga's lakeside onsen
For those who do not wish to stay in one of the central village hotels, or are on a budget when traveling, there are many onsen available outside of the main hotel village. One of our favorites is in the Lake Onneto area, named Yama-no-Yado Nonaka Onsen. This rustic onsen features mineral-rich water that has a strong smell and leaves your skin feeling soft.  Also, if wild onsen are your preferred style of hot spring, there are a few to be found by hiking into the forest. You might need to be resourceful to find the locations though as many of them are kept a secret!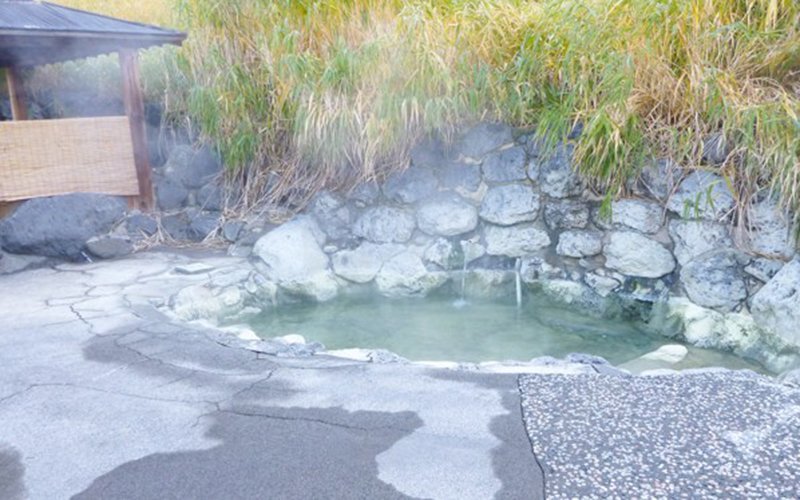 Yama-no-Yado Nonaka outdoor onsen
Ainu Kotan (Village)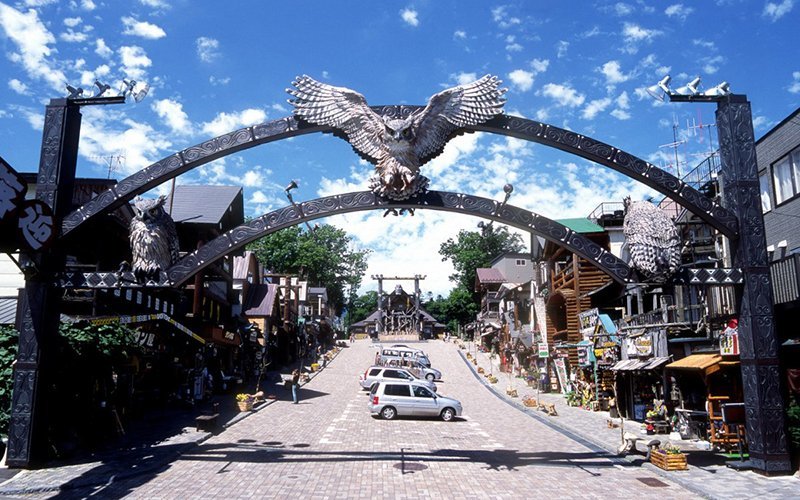 Ainu Kotan main street
The Ainu are an indigenous people of Hokkaido. Currently, the Japanese government estimates 25,000 Ainu are living in Japan, although some believe the number to be much higher as many Ainu have been completely assimilated into Japanese society and have no knowledge of their ancestry. The Ainu controlled Hokkaido for centuries, braving the harsh winters, and hunting and fishing to survive. Ainu culture was much different from Japanese culture. Tattoos were commonplace, all men grew full beards, and an animist religion believing that everything in nature has its own "kamuy" (spirit or god).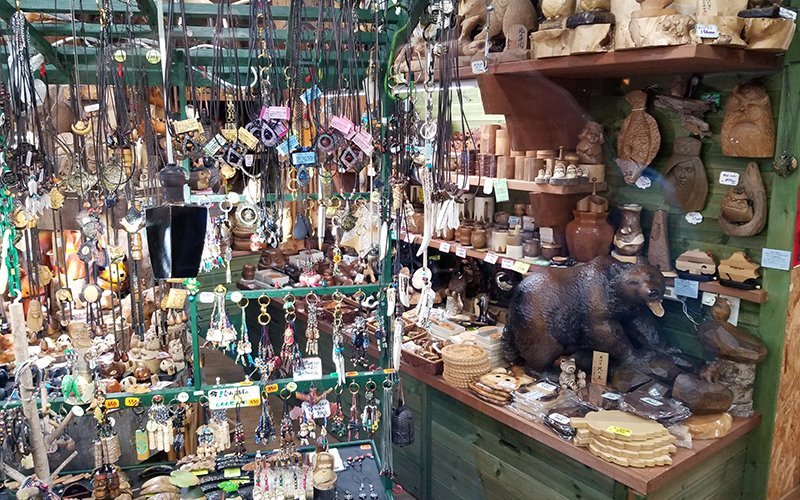 Ainu carvings, crafts, and goods
Ainu Kotan is a small village located in Akankohan, right next to the large resort hotels and hot springs. Shops line a bustling street, showing hand-crafted goods by the local Ainu people living there. The skill of the art is magnificent, ranging from intricate wooden carvings to leather goods and jewelry. The Ainu village also has a theatre that holds a performance of traditional Ainu song, dance, and instruments.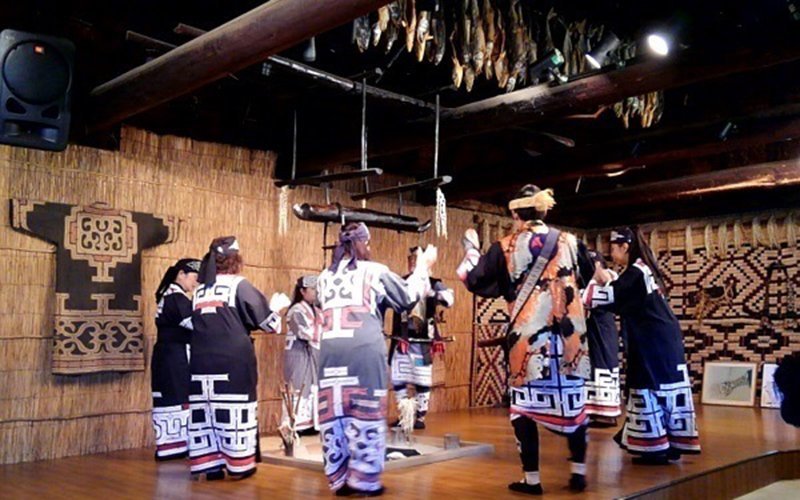 Traditional Ainu Performance
Lake Mashu Area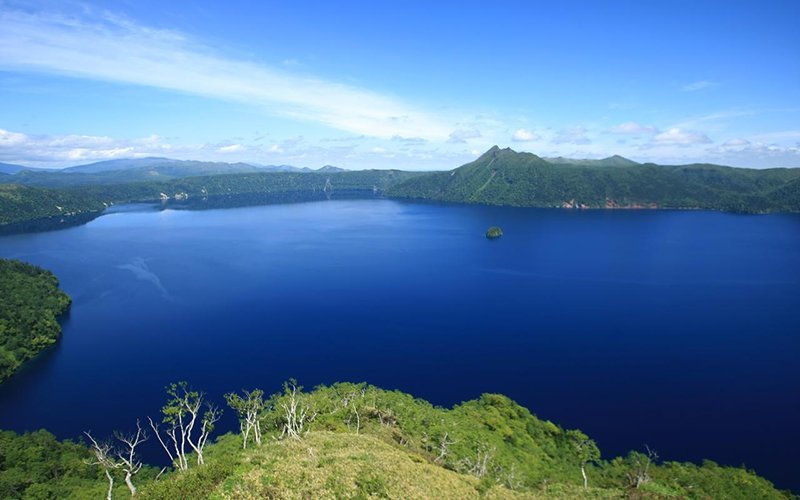 Mashu has been called the clearest lake in the world
Making up the second major area of Akan Mashu Nation Park is the unique terrain of the Lake Mashu area. Equally as beautiful as Akan and only a short drive away, this area is not to be missed. Lake Kussharo is nearby to Mashu and is the largest caldera lake in Japan in terms of surface area. It is also the largest lake in Japan to completely freeze over in the winter!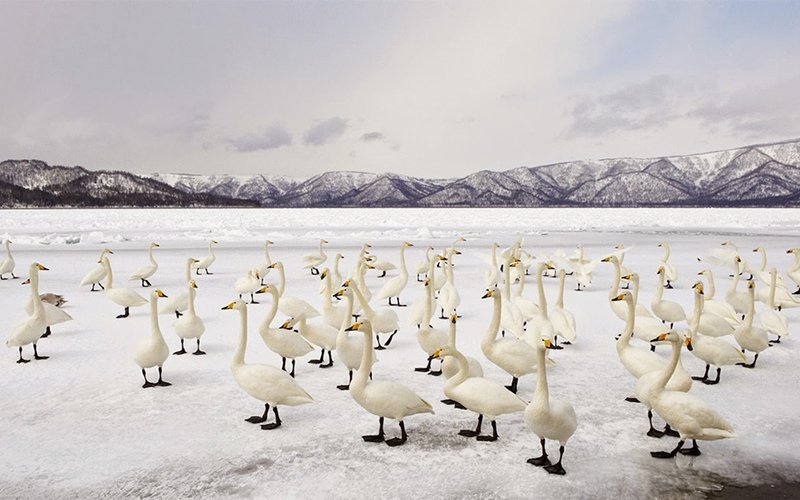 A swan flock standing on top of frozen Lake Kussharo
Lake Kussharo has a central island, Nakajima, which is a composite volcano. The volcanically active lake renders the waters acidic and produces many lakeside onsen. These hot springs come in various shapes and styles, from homey ryokan onsen hotels, to completely free and wild baths mixing with the lake water and providing stunning views.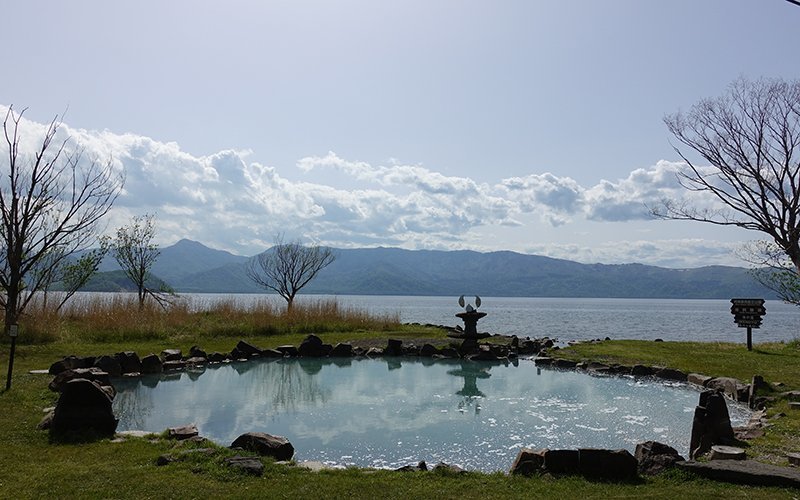 A perfect spring day paired with a free, natural, lakeside hot spring
Just a short drive away from Kussharo lies the mighty Mashu. The road is steep, and as your car or bus winds up the countless switchbacks to gain elevation, you know you are in for something special once you reach the top. Surrounded by sharp crater walls 200 meters high, the bright blue lake Mashu lies still. There is no significant inlet or outlet, so the water level is maintained by snowmelt and evaporation each year as the seasons cycle.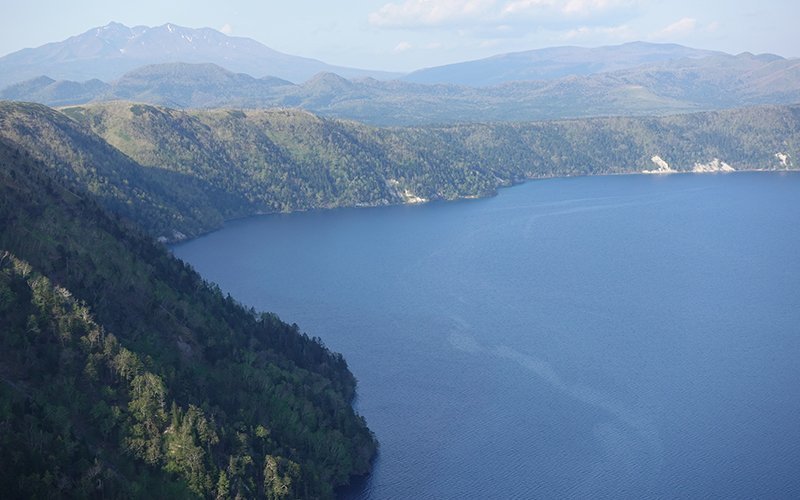 Mount Shari overlooking the north side of Lake Mashu
Lake Mashu has been called the clearest lake in the world and is the deepest lake in Japan. The lake was formed from a large eruption of a stratovolcano, where the peak collapsed into itself, leaving a bowl to be filled by rain and snowmelt. Lake Mashu is truly an amazing sight to behold. The clearest lake water you will likely ever see, surrounded by stunning peaks and steep green walls.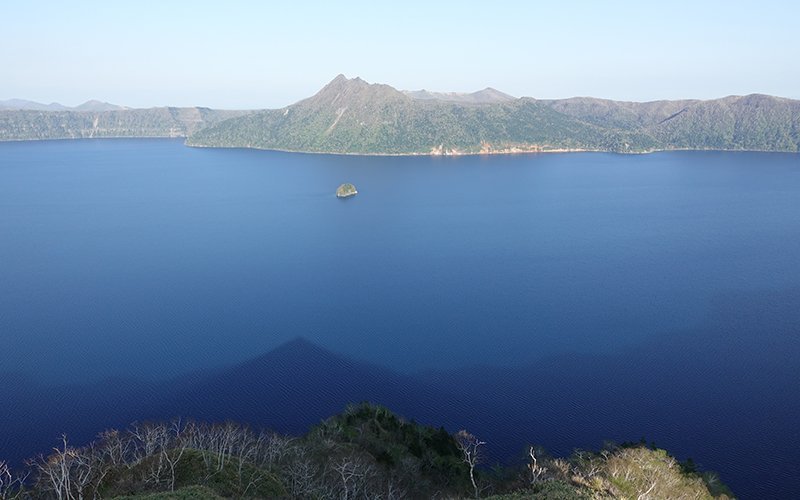 Perfectly blue Mashu
Akan Mashu Nation Park is an onsen lover's paradise, a hiker's playground, and the perfect place to go for the adventurous road tripper. Although it is a considerable drive away from Niseko, the trip can easily be made in one day. Moreover, once you are in East Hokkaido, many more incredible natural wonders are close by, including Shiretoko National Park.
Do you like road trips?
Read our other "Hokkaido Road Trip" articles! We show you our best travel tips and destinations to explore Hokkaido by car.  Some of these road trips feature areas much closer to Niseko as well.
SHAKOTAN AND OTARU FURANO AND BIEI ASAHIDAKE POWDER SNOW MICHI-NO-EKI: GOOD PARTNER FOR YOUR ROAD TRIP