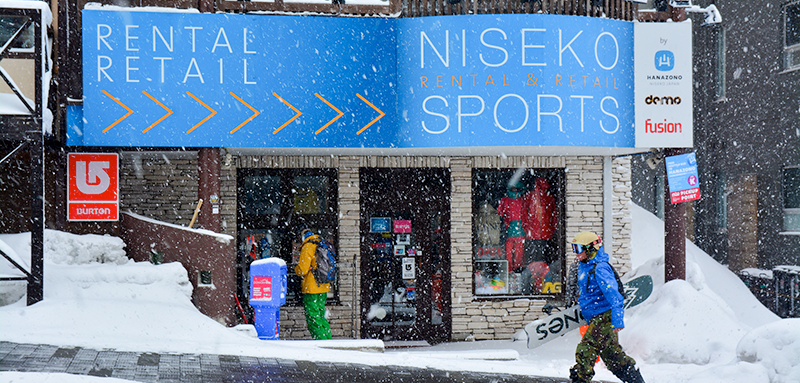 Focusing on the best gear for the weather conditions here in Niseko, Niseko Sports is proud to offer an extensive selection of the latest technical gear from the world's leading brands such as K2, Salomon, Line, Head, Rossignol, Burton and new for 2017 - Faction. Niseko Sports also carries a full range of children's equipment suited for all ages and abilities.

Niseko Sports also have the BCA Float backpacks + cylinders for those looking to go backcountry skiing with the necessary equipment. Niseko Sports can also refill BCA cylinders as required.

Why should you book with Niseko Sports:
Niseko Sports offers a free pickup to guests renting from the main Hirafu store.
Free overnight storage for equipment rented at all Niseko Sports stores. (Skis, poles or snowboards only).
Niseko Sports offer you the convenient option to switch your skis to boards or vice versa as many times as you like, at any Niseko Sports outlet. **Please note this service is only available to guests renting the Premium range equipment**.
Pickup your equipment from 3pm the day prior to your rental start date at no extra costs.
Drop into any Niseko Sports store for a free wax service for any equipment rented with us.
Click here to book your equipment now!
Premium Range Equipment
Days
Skis & Poles /
Snowboards
Skis, Boots &
Poles / Board &
Boots
Helmet
1
¥5,700
¥7,000
¥1,500
2
¥10,000
¥12,000
¥2,000
3
¥14,000
¥16,000
¥2,500
4
¥18,000
¥20,000
¥3,000
5
¥22,000
¥24,000
¥3,500
6
¥26,000
¥28,000
¥4,000
7
¥29,000
¥31,000
¥4,250
8
¥32,000
¥34,000
¥4,500
9
¥35,000
¥37,000
¥4,750
10
¥38,000
¥40,000
¥5,000
11
¥40,000
¥42,000
¥5,100
12
¥42,000
¥44,000
¥5,200
13
¥43,000
¥45,000
¥5,250
14
¥44,000
¥46,000
¥5,300
Extra Days
¥1,000
¥1,000
¥300
Mid – Range Equipment
Days
Skis & Poles /
Snowboards
Skis, Boots &
Poles / Board &
Boots
Helmet
1
¥4,600
¥5,200
¥1,500
2
¥8,000
¥8,500
¥2,000
3
¥11,500
¥13,000
¥2,500
4
¥14,500
¥16,000
¥3,000
5
¥17,500
¥19,000
¥3,500
6
¥19,500
¥21,000
¥4,000
7
¥21,500
¥23,000
¥4,250
8
¥23,500
¥25,000
¥4,500
9
¥25,500
¥27,000
¥4,750
10
¥27,500
¥29,000
¥5,000
11
¥28,500
¥30,000
¥5,100
12
¥29,500
¥31,000
¥5,200
13
¥30,500
¥32,000
¥5,250
14
¥31,500
¥33,000
¥5,300
Extra Days
¥1,000
¥1,000
¥300
Kids Equipment (13yrs and under)
Days
Skis & Poles /
Snowboards
Skis, Boots &
Poles / Board &
Boots
Helmet
1
¥3,500
¥4,000
¥1,500
2
¥6,500
¥7,000
¥2,000
3
¥8,000
¥8,500
¥2,500
4
¥9,500
¥10,000
¥3,000
5
¥11,000
¥11,500
¥3,500
6
¥12,500
¥13,000
¥4,000
7
¥14,000
¥14,500
¥4,250
8
¥15,500
¥16,000
¥4,500
9
¥17,000
¥17,500
¥4,750
10
¥18,500
¥19,000
¥5,000
11
¥19,500
¥20,000
¥5,100
12
¥20,500
¥21,000
¥5,200
13
¥21,000
¥21,500
¥5,250
14
¥21,500
¥22,000
¥5,300
Extra Days
¥500
¥500
¥300
Other
Days
Jacket & Pants
Jacket Only or Pants Only
Boots only
1
¥3,000
¥2,000
¥2,600
2
¥6,000
¥3,000
¥4,100
3
¥7,800
¥3,900
¥4,600
4
¥8,600
¥4,300
¥5,200
5
¥9,400
¥4,700
¥5,700
6
¥10,200
¥5,100
¥6,100
7
¥10,800
¥5,400
¥7,000
8
¥11,400
¥5,700
¥7,500
9
¥12,000
¥6,000
¥8,000
10
¥12,600
¥6,300
¥8,400
11
¥13,000
¥6,500
¥8,800
12
¥13,400
¥6,700
¥9,300
13
¥13,800
¥6,900
¥9,800
14
¥14,200
¥7,100
¥10,300
Extra Days
¥500
¥500
¥500