Snowshoe Tours
HANAZONO Snowshoe Tour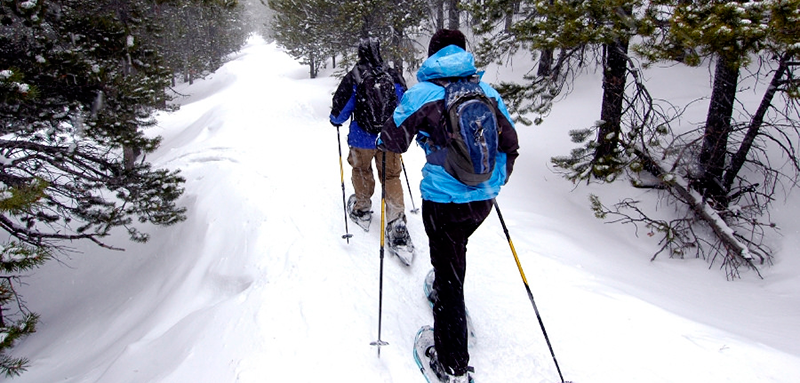 This tour will take you through the pristine forest of HANAZONO Resort, and is a convenient choice for those staying in the Niseko resort area.
Details
Session A: 13:30 - 14:30 (1hr)
Session B: 14:30 - 15:30 (1hr)
Tour includes a guide, snowshoes and poles.
Tour is available to those aged 13 and over.
Boots or other sturdy & warm footwear is required to use the snowshoes.
¥4000 per person
Hangetsu Lake Snowshoe Tour (NAC)
This tour takes you to the base of the majestic Mt Yotei where you will snowshoe and work together with your group to find the best and most fun route to Hangetsu (Half Moon) Lake. This lake freezes over in Winter and is uniquely shaped like a crescent moon, so it is a great option for those looking for a more adventurous snowshoeing experience.
Private Tour Details
Age: 6 yrs +
Group Size: Up to 6
Start Time 9:00 or 13:30
Duration 3 hours
Meeting Place Meet at NAC centre or your accommodation
Notes: Free transportation service
¥24,000 per group
Group Tour Details
Age 6 yrs +
Group size: Minimum 2, maximum 8
Start time: 9:00 or 13:30
Duration: 3 hours
Meeting Place: Meet at NAC centre
Notes: No transportation service
¥7,000 per person
Interested?
Looking to find out more information on this or would like help booking? We provide booking services to all guests staying with Vacation Niseko.
Contact us Today
Why Book Directly?
Experience
Vacation Niseko has over a decade of experience and an unrivalled expertise tailoring seamless winter packages to Niseko.
Flexibility
Our extensive range of vacation packages cater to all levels of skiers and snowboarders, offering a wide choice of accommodations to suit your budget, style and location.
Partnerships
Our partnerships allows us to offer you unrivalled access to a range of Niseko's best winter activities and services at the most competitive prices.
Guest Card
Present your Vacation Niseko Guest Card for various special offers and discounts across the resort and beyond.