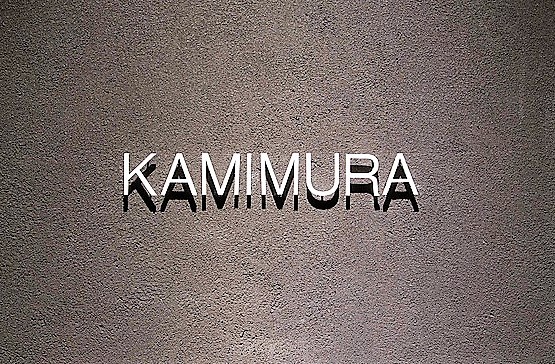 While Niseko is blessed with endless powder snow in winter, the region is not a one trick pony - many high quality restaurants made it their home. One of the most beloved establishments is Kamimura, a hit among locals, tourists, foodies and critics.
Kamimura restaurant is run by the Head Chef Yuichi Kamimura and his wife Ms. Miyuki Kamimura. Born in 1975 in Hokkaido, Chef Kamimura spent his early years helping at his parents' restaurant. He further gained experience in Australia under the guidance of the renowned chef of Restaurant Tetsuya. Upon his return to Hokkaido, Kamimura opened his first restaurant in Sapporo. He later moved to Niseko in December 2007, the year which Kamimura saw the light. 
While the cuisine served at Kamimura is of French inspiration, the Chef sources its ingredients from different parts of Hokkaido, from seafood to wagyu beef, cheese, fruits and vegetables. Ingredients are the most titillating part of a meal at Kamimura, as you'll feel like you are travelling across northern Japan to try the best produce available in every region.
 
In addition to only using the best ingredients available, Kamimura Restaurant also pay meticulous attention to customers' satisfaction. Every dish is served on a different style of plate to match the visual allure of the food and to maximise the flavor intensity.
 
By often showcasing a set-menu, Japan's highest ranking restaurants offer a consistent experience. The formula is used by Kamimura, where customers can enjoy either a short-course first seating dinner or an unmatched 9-course degustation menu. Though the menus are the same throughout the entire season, Kamimura Restaurant maintain a customer base and will prepare a different menu for revisiting customers. The menus can also be adjusted for particular dietary requirements.
Kamimura 9-course Chef's Degustation Menu (Winter 2015-16)
Sashimi of Notsuke Scallop
The first course is the fresh appetizing scallop sashimi, garnished with salmon caviar and cucumber. Topped with the chrysanthemum leaves and white olive snow, the dish presentation makes people like me who are usually not fond of sashimi eager to have the first bite. To my surprise, the scallop is fresh without and overly strong fish taste. The blend of salmon caviar and cucumber makes a perfect match for the dish.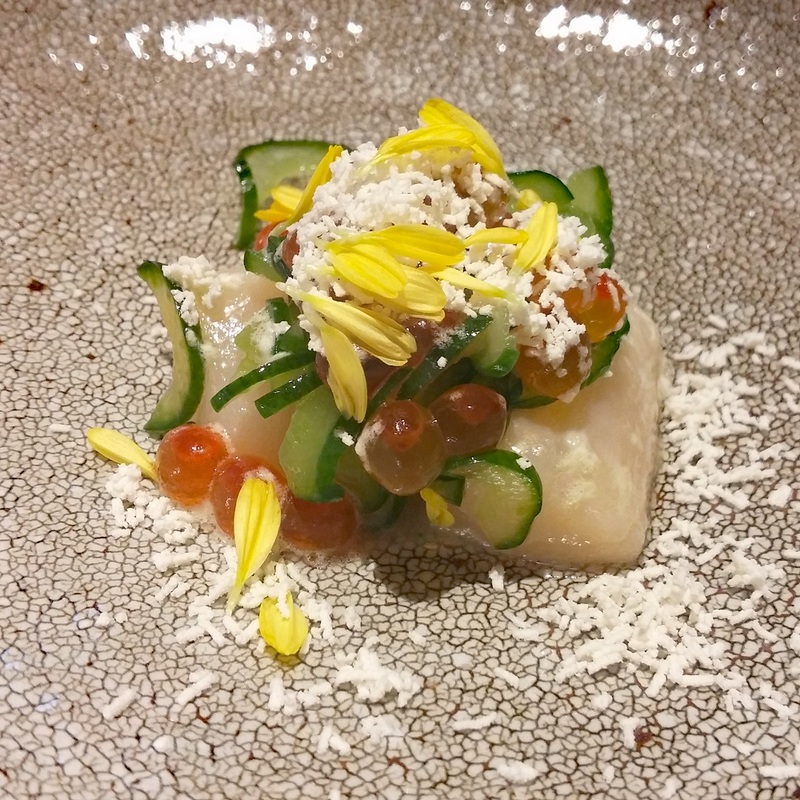 Botan King Prawn
The second course is Botan King Prawn served with tomato, broccoli and potato confit. A wonderful use of fresh vegetables in lieu of a traditional salad starter.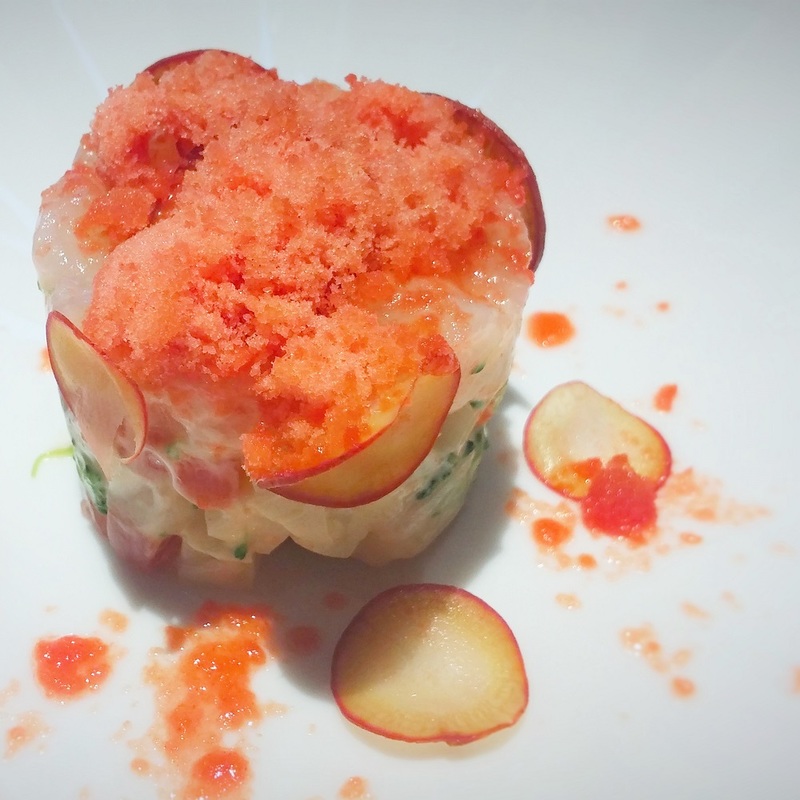 Marinated Tuna
The third course is the Marinated Tuna and is presented with daikon pickles, olive and eggplant salsa on top. Kamimura shows once again that you don't need exotic ingredients to create an unforgettable dish.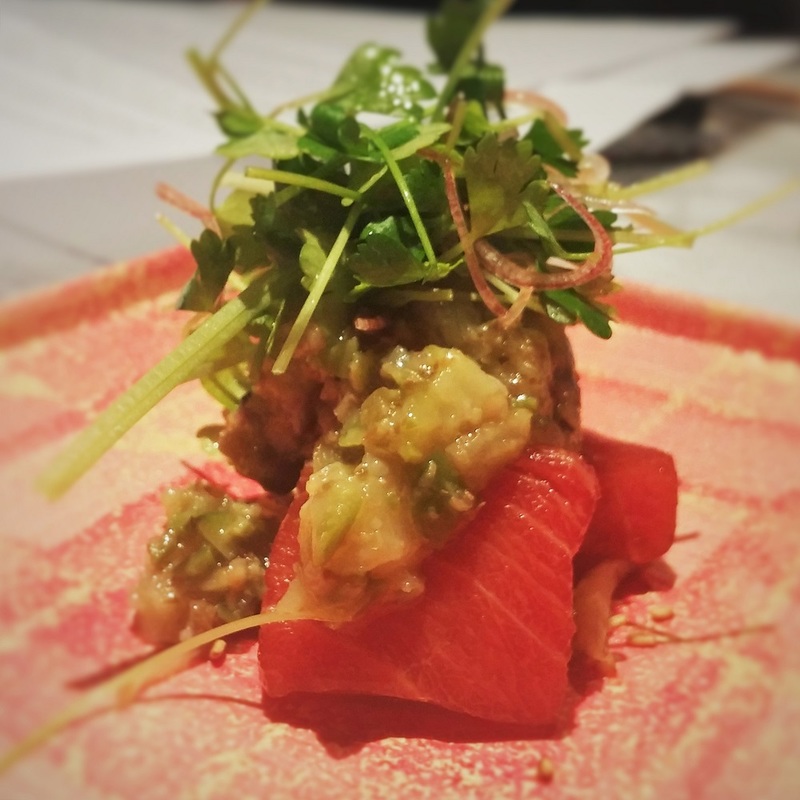 Takikawa Duck Ham
The fourth course: Takikawa Duck Ham with watercress, topped with an airy soy dressing. This is an interesting dish where the airy soy topping reminds me of a beaten egg white when you make a cake. Customers are told to eat this part first, as the trapped air quickly disappear.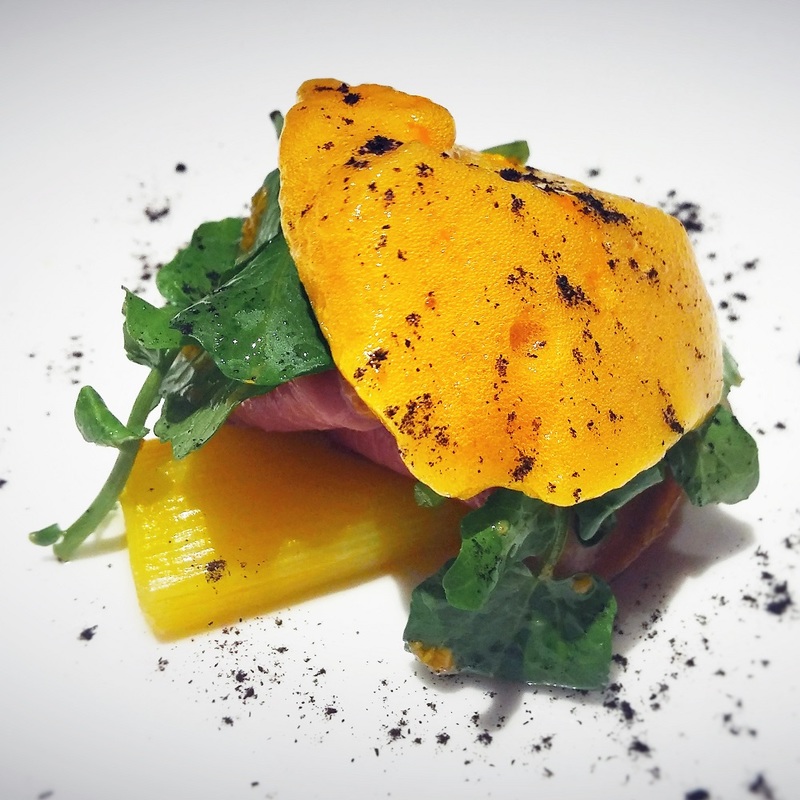 Grilled Tomakomai Soi Fish
The fifth course is the Grilled Tomakomai Soi Fish with truffles turnips and a red cabbage salad. Photos don't give this dish justice, as the perfect cooking and right amount of seasoning need to be experienced to be fully appreciated.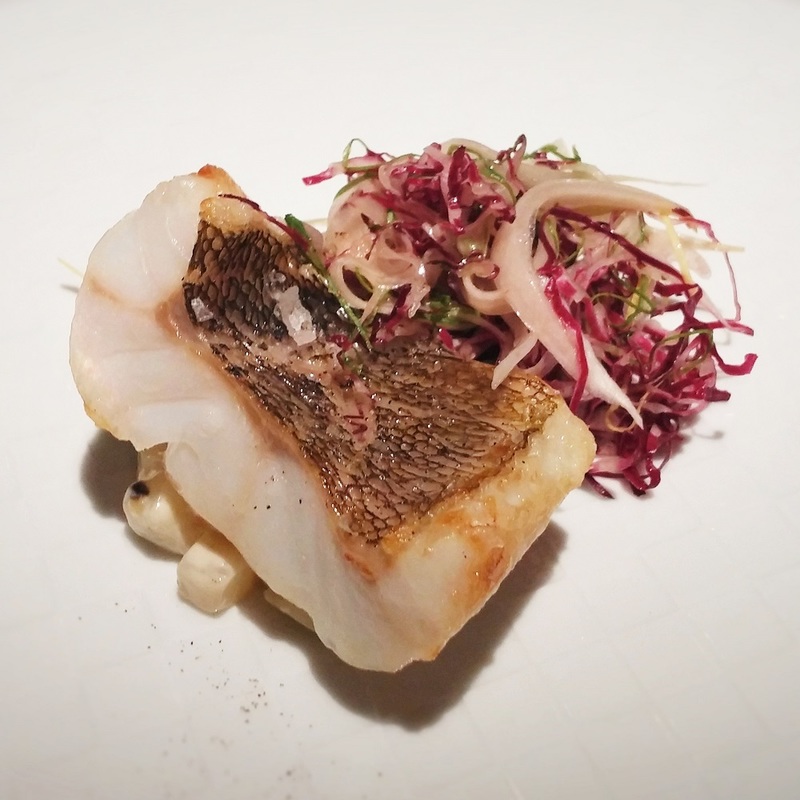 Braised Hokkaido Pork
The sixth course is the Braised Hokkaido Pork in Yoichi red wine with cabbage and grapefruit. I am usually not a fan of using fruits in a main dish, but here the balance of bitterness and sweetness matches the pork perfectly.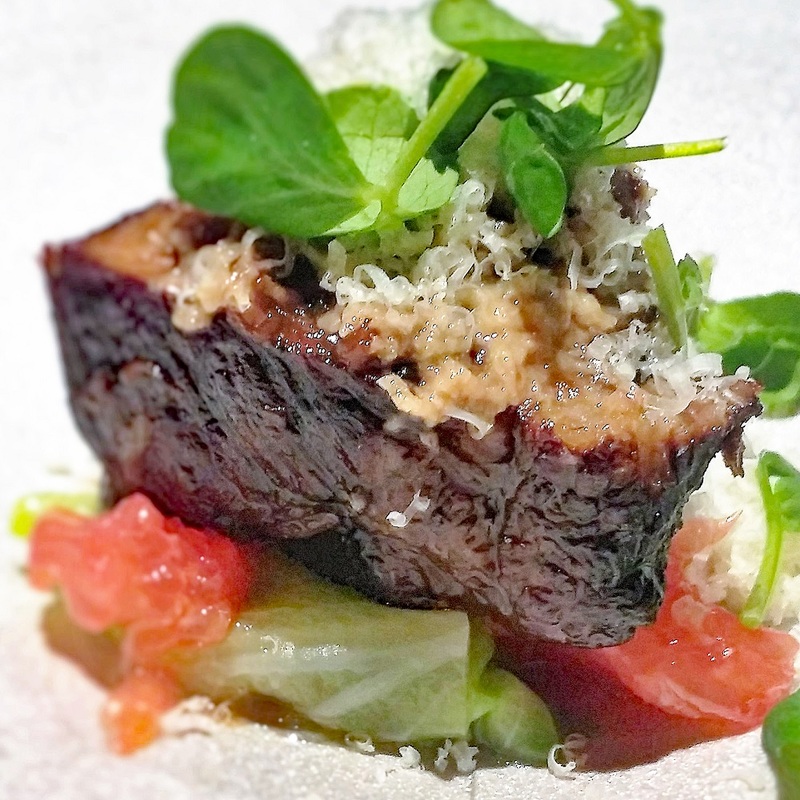 Wagyu Sirloin
Complemented with the right amount of charcoal taste, this perfectly marbled piece of Wagyu Sirloin is definitely my favorite course of the menu. Served together with burdock and crispy potato chips, the beef matches perfectly the house's extensive wine list.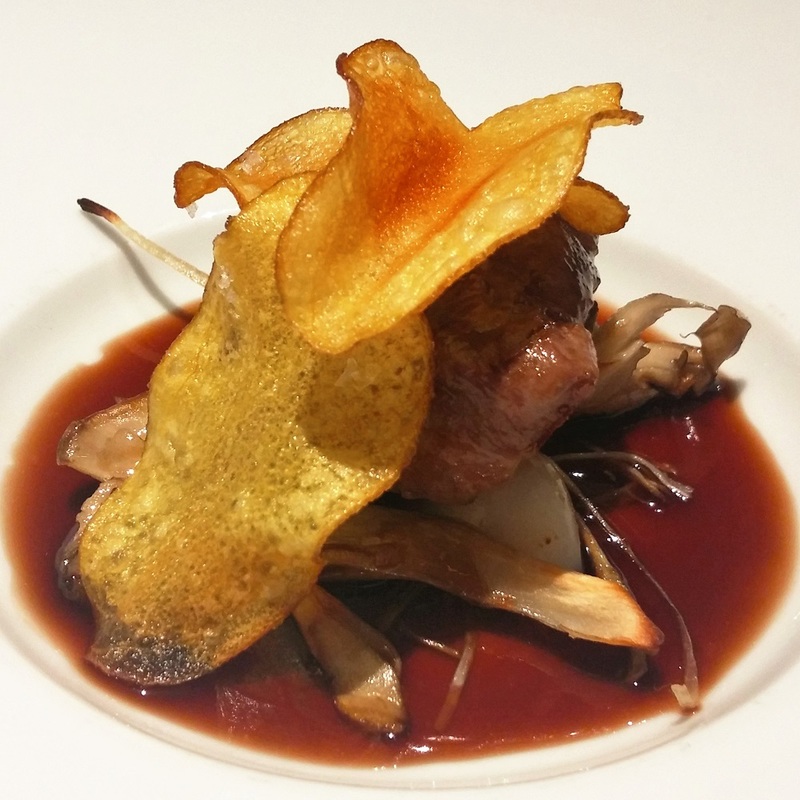 Duck and Veal Consommé
The eighth course is Duck and Veal Consommé with drops of Yoichi Whisky. Served in a clear glass with nothing to hide, you can see that the soup is light and free of any fat. However, once it meet your palate, the soup has a rich taste of meat base with a tint of whisky flavor.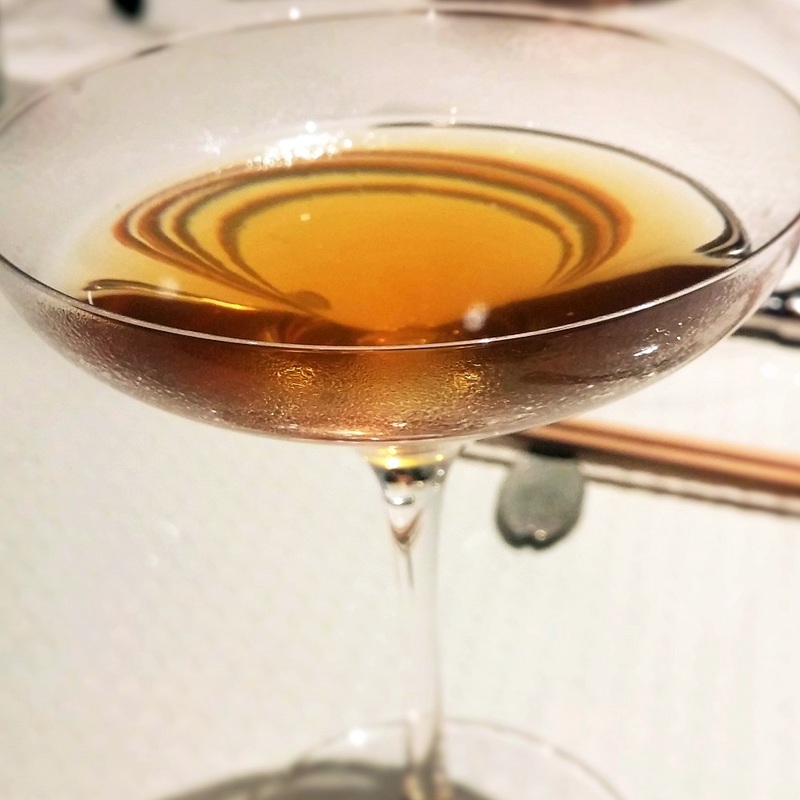 Roasted Yoichi Apple
To complete the dinner, the Roasted Yoichi Apple served with a generous serving of Hokkaido ice cream will satisfy your sweet tooth.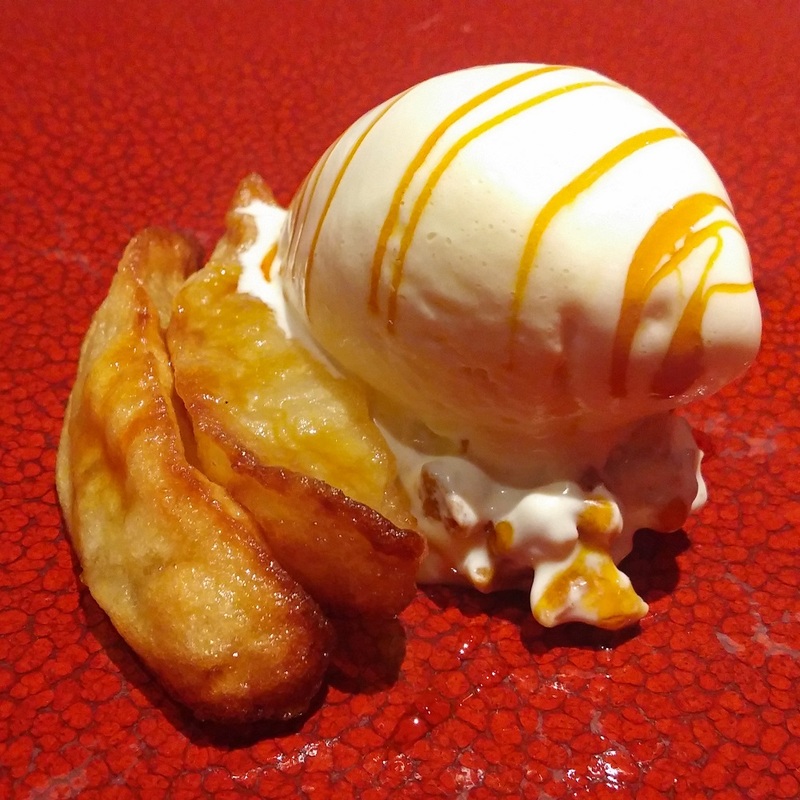 KAMIMURA is definitely one of the restaurants you need to experience in Niseko. This memorable restaurant is always in high demand and it is often booked out well in advance on peak dates. It is highly advisable to reserve months in advance for Christmas or Chinese New Year. Reservation can be made directly on Kamimura website.
Summer Pricing (JULY-OCTOBER)
LUNCH: ¥ 5000* (from noon on Thursday, Friday and Saturday)
DINNER: 6-COURSE….¥ 8000*   9-COURSE….¥ 15,000* (from 6pm on Friday, Saturday and Sunday)
Winter Pricing (DECEMBER-APRIL)
DINNER:

6-COURSE….¥ 8000* (fixed seating 6 - 8pm)
9-COURSE….¥ 15,000* (anytime after 6pm, last seating at 8:30pm)
*Prices as of 2016
Location
1st Floor, 190-4 Aza Yamada, Kutchan-cho, Abuta-gun, Hokkaido 044-0081
Niseko Restaurant Guide
Booking a restaurant in Niseko isn't easy. To help you during this process, we have created a helpful guide which separates the restaurants into categories, ranging from very popular and hard to book to our recommendations outside the beaten path.