Rafting Tours
Adrenaline junkies should ensure they book for the spring melt from late April until early June, when the Shiribetsu river is 3-4 times its normal volume. Families and first-timers should consider the relatively calm, warm waters of the summer, or admire the lovely foliage during a peaceful October float.
Dates of Operation: 28th Apr-28th Oct, 2018
Spring Rafting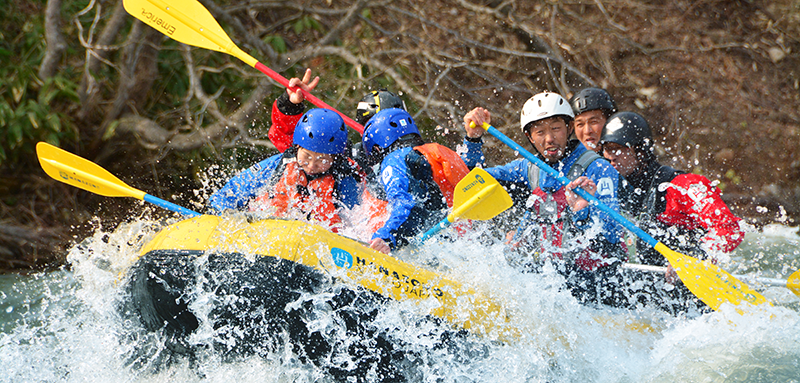 All for one and one for all! Jump into a large rubber raft with your friends, and let an experienced guide navigate you through some amazing grade 4 rapids, interspersed with calmer sections where you can catch your breath and enjoy the wildflowers.
Summer / Autumn Rafting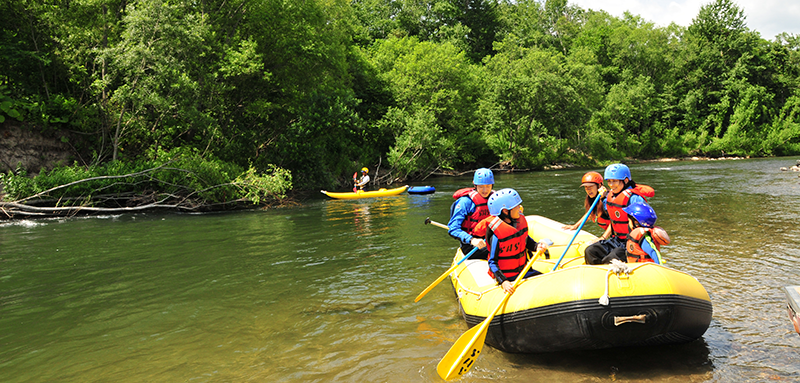 For families, first-timers, or those seeking equal parts relaxation and excitement, consider hitting the river in the summer or autumn. In the summer, enjoy grade 2 rapids interspersed with wide, slow areas where you can swim, lounge and enjoy the surroundings. In the autumn, it's all about relaxing and enjoying the lovely fall foliage as you float down the river.
What to Expect
| AM START | PM START |
| --- | --- |
| Please check in at the main activities desk at HANAZONO 308 before 8:50am | Please check in at the main activities desk at HANAZONO 308 before 1:20pm |
What to Wear
You may be wondering what to bring on your HANAZONO whitewater rafting adventure, and for good reason. You will be fitted out with a dry or wet suit but as we run rafting tours rain or shine you are likely to get wet, so it's a good idea to be prepared no matter what kind of river tour you have planned.
We recommend that you wear loose fitting clothes, avoid skirts, jeans and any material that does not stretch. Please also keep in mind the river water can remain cold throughout the year so please ensure you bring an extra layer of clothing.
Clothing - We recommend a short sleeved shirt and shorts in Mid Summer (mid July – late August) and a long sleeved shirt and long pants in Spring and Autumn.
Glasses - If you wear glasses, we can provide you with a string so you don't lose them on the river.
Contact lenses - Please either change to glasses or only wear disposable contact lenses. You may also wear goggles over you contact lenses.
Watches/Jewelry - Please remove all watches, jewelry before you arrive.
Shoes - You will be fitted out with river booties for your trip, there is no need for socks.
What to Bring
A full change of clothes & a towel - You will get wet!
Cameras & electronic devices - Please do not bring any cameras, electronic devices with you on the river. We have professional photographers that will take action shots of you tour. Photo CD's are available for purchase for ¥2,000.
Other Valuables - When bringing any valuables please remember to store them in the lockers provided
Getting Fitted Out
Once you are ready, our guides will instruct you how to get fitted out. The below is the standard for the majority of our river trips.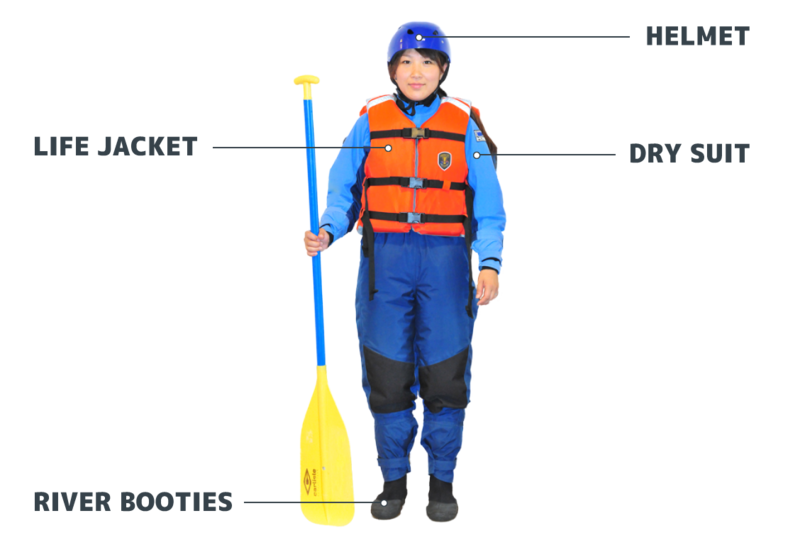 NOTE
Guests under the influence of alcohol may not participate on river tours.
Looking for more niseko summer fun?
Niseko is an outdoor playgroud during summer. If you like rafting, then you will likely be interested in one of these other exciting activities.
Bike Tours and RentalsCanyoningDucky River ToursSea Kayaking
Why Book Directly?
Experience
Vacation Niseko has over a decade of experience and an unrivalled expertise tailoring seamless winter packages to Niseko.
Seamless
Our extensive range of vacation packages cater to all levels of skiers and snowboarders, offering a wide choice of accommodations to suit your budget, style and location.
Partnerships
Our partnerships allows us to offer you unrivalled access to a range of Niseko's best winter activities and services at the most competitive prices.
Guest Card
Present your Vacation Niseko Guest Card for various special offers and discounts across the resort and beyond.