Winter 2018-19 Early Bird Discount
Expires Apr 30, 2018
---
What a wonderful winter season it's been! Want to enjoy it again next year? Then plan ahead, secure your dates early, and save BIG!
This winter's record breaking snowfall in Niseko certainly attracted the attention of winter-lovers worldwide, and because of this we are expecting a busy 2018-19 season. That's why Vacation Niseko is offering the best prices possible for those who book early. Discounts run up to 30% OFF! Don't wait, space is limited and this discount operates on a first-come, first-serve basis. This special Early Bird offer expires on April 30th!
Save up to 30% on All Properties!*
30% OFF
On Dates Between: November 23rd – December 16th and March 4th – April 26th
Minimum 3 Nights Stay Required
20% OFF
On Dates Between: December 16th – 21st and January 6th – March 3rd
Minimum 5 Nights Stay Required
*Discount on Aspect differs. Receive 20% OFF Aspect on all dates except peak winter (Dec.22nd – Jan 5th) and Chinese New Year (Feb. 2nd-10th). Minimum nights stay applies.
For any enquiries or more information on this discount, please contact stay@vacationniseko.com.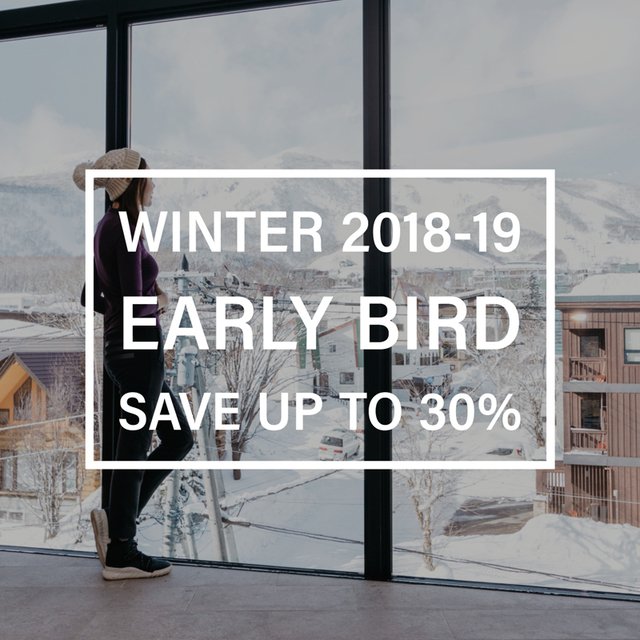 Additional Information
*Discount only applies for properties managed by Vacation Niseko
**Blackout dates for Early Bird Discounts apply. Discounts are available on selected properties only. Discounts are reflected on online quotations. Minimum night stay policy is required to enjoy the Early Bird Discounts. Contact Vacation Niseko for more details.
***Limited number of nights available for each apartment.
Recent News
Upcoming Events
Why you should book with us?