Niseko Autumn Food Festival
---
Taking place the same time as Sapporo Autumn Fest, Niseko Autumn Festival is a 4-day event (Sep 13-16) to showcase the special culinary experience in Niseko area with fresh produce harvested in Autumn. By inviting the popular restaurants which are often booked out in winter and offering discounted stay plan & discounted activity options, guests are provided with a rare opportunity to finally taste the food they have been hearing so much about in a more affordable and casual setting and also get to experience the beautiful Autumn season in Niseko. The festival will also support the local community's commitment to protect our environment and reduce waste as much as possible. All restaurants and bars participants will not be using plastic utensils or cups, making this one of Niseko's first eco-focused events.
Additional Information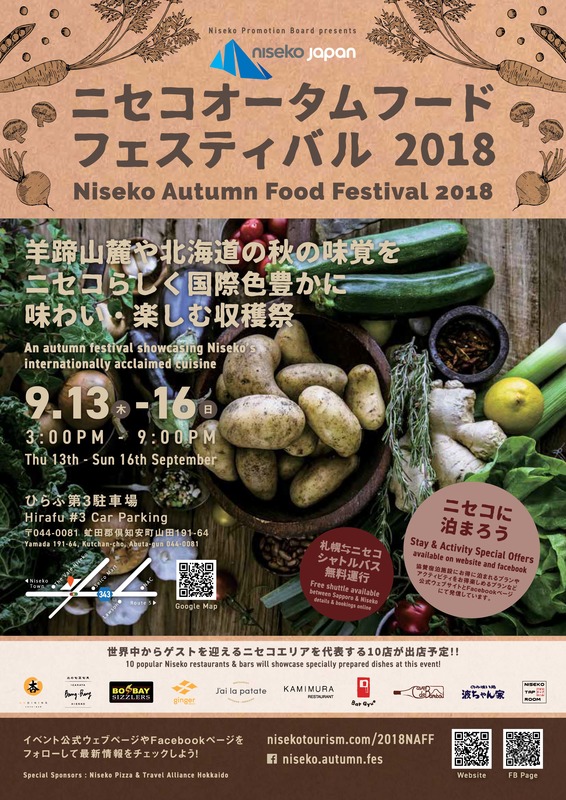 FREE Shuttle between Sapporo Odori Park and Niseko Welcome Center.
*On Sep 13 & 14th, 10:00 shuttle from Welcome center to Sapporo. 14:00 shuttle from Sapporo to Niseko Welcome Center.
*On Sep 15 & 16th, 10:00 shuttle from Sapporo to Niseko.
*On Sep 16th, 19:00 shuttle from Niseko to Sapporo.
*Guests need to book the shuttle in advance
*Guests from Sapporo to Niseko will receive ¥500 to spend at the Niseko Autumn Food Festival
Autumn food festival special offer
To celebrate this new festival, Vacation Niseko is offering a BIG discount on accommodation. Buy 2 nights, and get 1 free! More information available on our special offers page.
Recent News
Upcoming Events