Niseko Yoga Fest
1200 yen prebook / 1500 yen walk-in / 4000 yen 4 class pass
Aspect roof-top@Vacation Niseko, The Orchards@Midori no Ki, Kazahana&Setsu in@Taiga
---
Niseko YoGA FEST
Vacation Niseko will present this event together with other two accommodation providers this summer!
-5 kinds of yoga, 7 classes, in 4 different places.
details
Time: 3-5 (Fri-Sat) August 2018
Fees: Pre-book1200yen On the day 1500yen  4 Class pass 4000yen
Yoga mat rental: Available @200yen *maximum capacity varies according to the venue
Location: Enjoy yoga at 4 different locations!
Venue
Description


Vacation Niseko: "Aspect" (Hirafu)

Luxurious Condominium Rooftop with a supurb Yotei View. Inhale the Yotei power and feel the clear air of Niseko. Don't miss the chance to experience this special occasion!

8/4(SAT) 10:00-11:00 am by Akira
8/5(SUN) 10:00-11:00 am by Miwa


Midori no Ki: The Orchards(Kabayama)

Spacious property has an large event space fit for an event like this. Surrounded by the green and the clean air of Niseko, it's time to return to yourself!

8/3(FRI) 9:00-10:00 am by Marika
8/4(SAT) 7:30-8:30 am by Miwa
8/4(SAT) 16:30-17:30 pm by Noriko


Taiga: Setsu in(Hanazono)

In the serenity of this luxurious chalet in Hanazono area, work out maximum, and then relax by the green outside of the window. This is a rare occasion to enjoy the Niseko villa scenes.

8/5(SUN) 13:30-14:30 pm by Jacinta

Taiga: Kazahana (Hirafu)

Yotei view chalet in town makes you easily concentrate on the day's yoga. Don't miss out the chance to experience what Niseko is hiding from you!

8/3(FRI) 13:30-14:30 pm by Jacinta
Schedule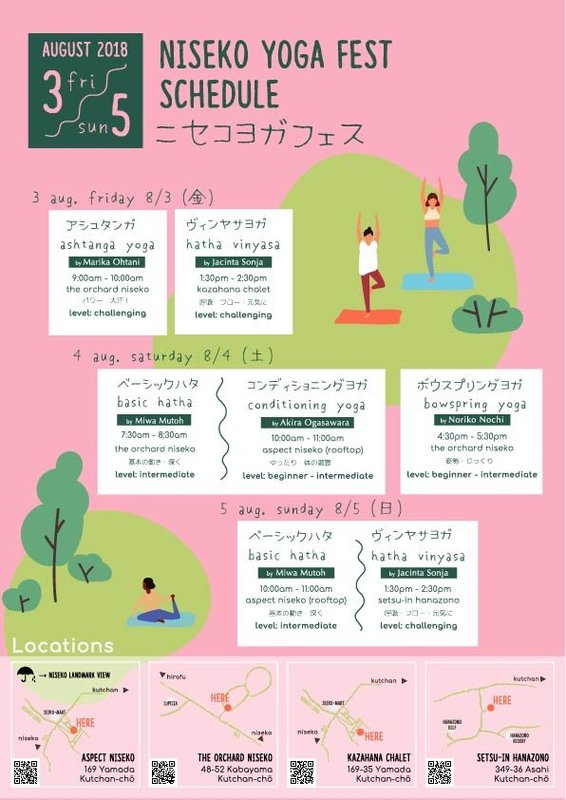 For more details, please visit the event's FB page.
https://www.facebook.com/Niseko-Yoga-Fest-551195751949370/
Recent News
Upcoming Events