Snowmobile Tours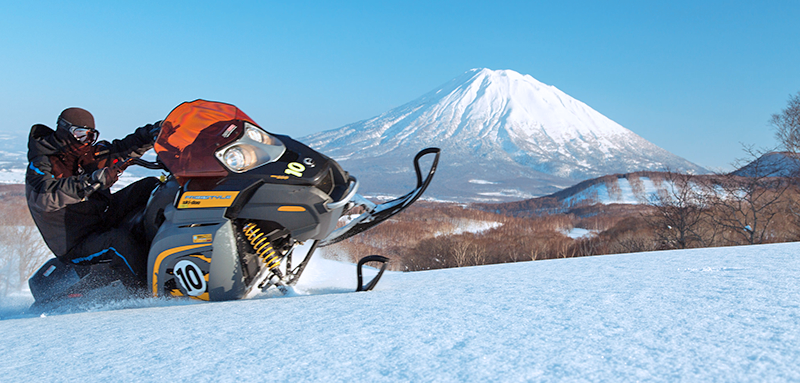 Hanazono Snowmobiling tours
Snowmobiling is the ultimate alternative to skiing. Equal in terms of adventure, adrenaline and excitement, but more accessible for members of the whole family, snowmobiling is something everyone should try.

A wide variety of tours are possible. Learn the basics on a picturesque introduction course in Hanazono, climb the hills and appreciate the vista on the Panorama Course, or go on an epic adventure to see the Sea of Japan on the Ocean View course. For experienced snowmobilers, deep-powder tours are available, as are timber bikes and snowmobile-assisted backcountry snowboarding and skiing.

RABBIT COURSE
A 30-minute course where the spacious expanse of the golf course is your playground. An ideal course for first-timers.
PANORAMA COURSE
Looking for a bit more adventure? Ride the vilvet powder snow through forest glades, and enjoy the panoramic views.
Snowmobiling Tours
Tour
Duration
Single Rider
Tandem Rider
Particiapnts
Starting Time
Group Rabbit Tour
30 minutes
¥7,500 per machine
¥11,000 per machine

Min. - 2 machines

Max. - 8 machines

Early season: operates every hour from 09:00am - 15:00pm from Dec 2nd - 31st, 2017
Regular Season -Tour starts at at 09:00am, 11:30am or 14:00pm from Jan 1st, 2018

Group Panorama Tour*
60 minutes
¥13,000 per machine
¥19,000 per machine

Min. - 2 machines

Max. - 8 machines

Starts from 10:00am, 12:30pm or 15:00pm**

* Group Panorama Tour is available after Jan 1st, 2018

**15:00pm is available after Jan 15th, 2018
Age Restrictions:
Single Rider Snowmobile: from 13 years old
Tandem Snowmobile: from 7 years old / 120cm in height, riding tandem with a parent / guardian aged 18 years and over.
Tour Size Requirements:
Group Tours require 2 machines minimum to operate
Up to 8 machines maximum can take part in the course.
4 tandem machines are available in total
A group of 12 would need 8 guests riding 4 tandem machines, and 4 guests riding single rider machines.

Snowmobiling tours can be booked once in-resort, through our helpful and friendly front desk team.
Why Book Directly?
Experience
Vacation Niseko has over a decade of experience and an unrivalled expertise tailoring seamless winter packages to Niseko.
Seamless
Our extensive range of vacation packages cater to all levels of skiers and snowboarders, offering a wide choice of accommodations to suit your budget, style and location.
Partnerships
Our partnerships allows us to offer you unrivalled access to a range of Niseko's best winter activities and services at the most competitive prices.
Guest Card
Present your Vacation Niseko Guest Card for various special offers and discounts across the resort and beyond.