5 reasons February is the perfect time to come to Niseko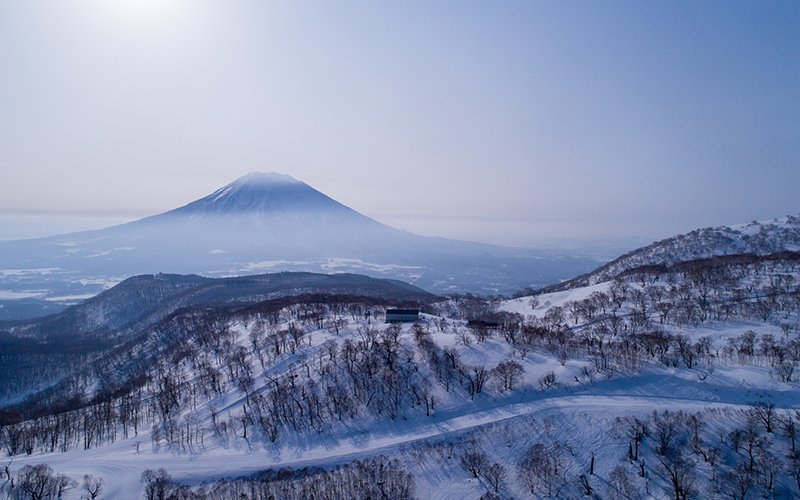 Mt. Yotei from the sky at Hanazono Resort
Are you planning a Niseko getaway, but unsure when the best time for you is?  Consider February. There are many reasons why February is the perfect time to visit, but here are our top 5!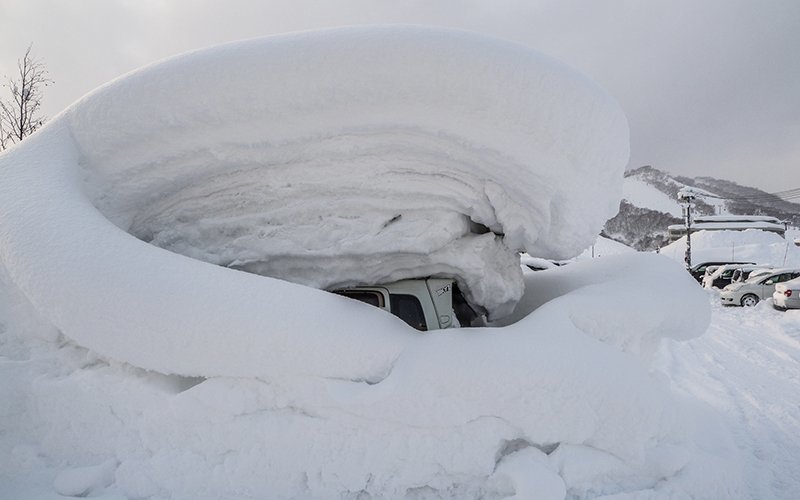 So much snow cars were getting buried!
The Snow
Niseko's snow is world famous. In fact, Niseko was blessed with more snow than anywhere else in the world during the 2017-18 winter season. February is peak powder season, so if you are looking to dive into that famous fluffy white stuff then the 2nd month of the year is a perfect time!
For those experienced powderhounds, February is the safest bet for powder. It is late enough in the season that there will be a solid base to open up lots of terrain, even if Niseko has a slow start in terms of snowfall. This is also the premier season for backcountry riding and touring, as the temperatures stay cold and the snow is generally safe. As February progresses and gets closer to Niseko's spring, the chance of the sun coming out increases. February could hold a perfect bluebird sunny powder day, and could give you the best day of skiing in your life! Also, night skiing is still running, so the ski resort has lifts running for 12 hours every day.  
Watch Evan Wilcox demonstrate a single perfect day in February in the Niseko backcountry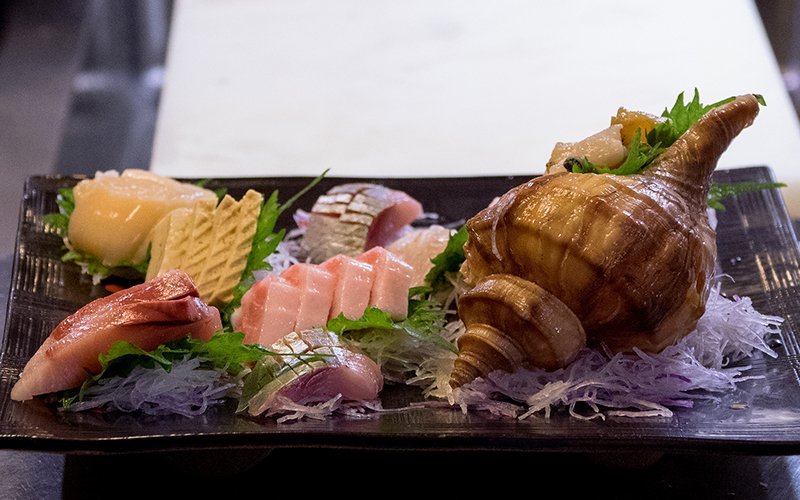 More restaurant choices available in February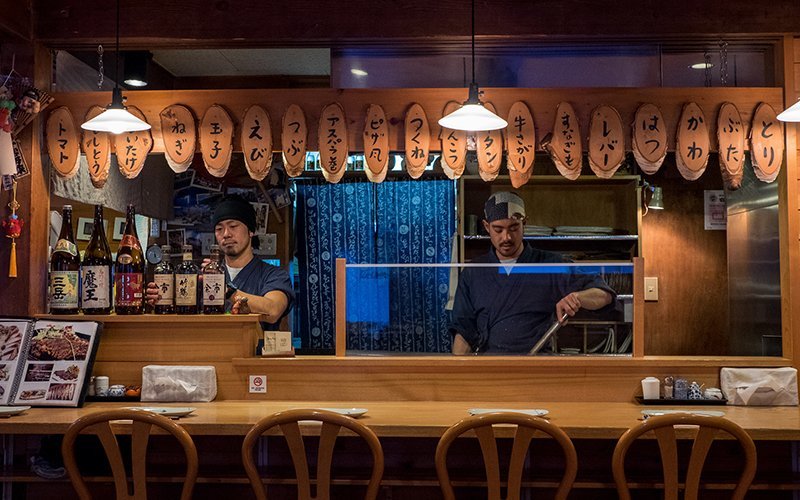 Bang Bang Restaurant in Hirafu
Fewer Crowds
Compared to the busiest seasons in Niseko, February is much more relaxed and has fewer visitors. During Christmas, New Years, and some January dates you can find quite a large line of people waiting for that first gondola ride on a perfect powder day. This also translates into the restaurants in the evening as all those people are hungry after skiing all day. Many restaurants are booked out well in advance during those periods, while February dates let you have freedom in sampling all the delicious food options that Niseko holds.  Moreover, ski lessons and premium services such as Hanazono Powder Guides and Niseko Weiss Powder CATS will likely have openings, so you can get your share of perfect untracked powder.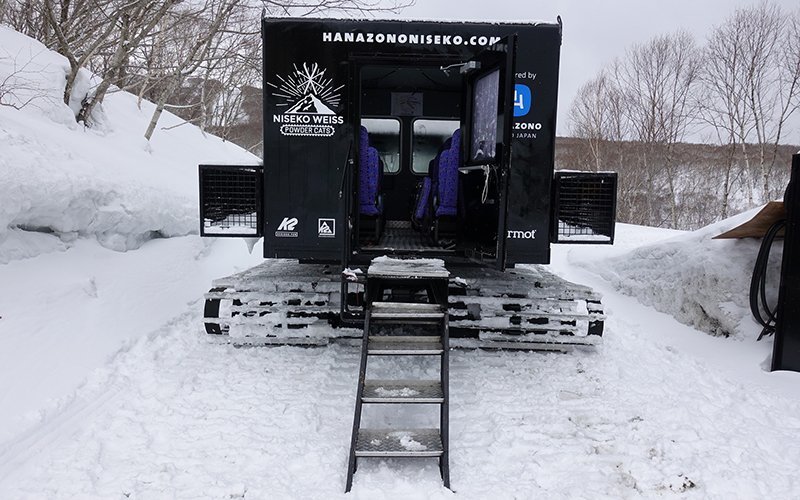 Hop in! Niseko Weiss Powder CATS backcountry tours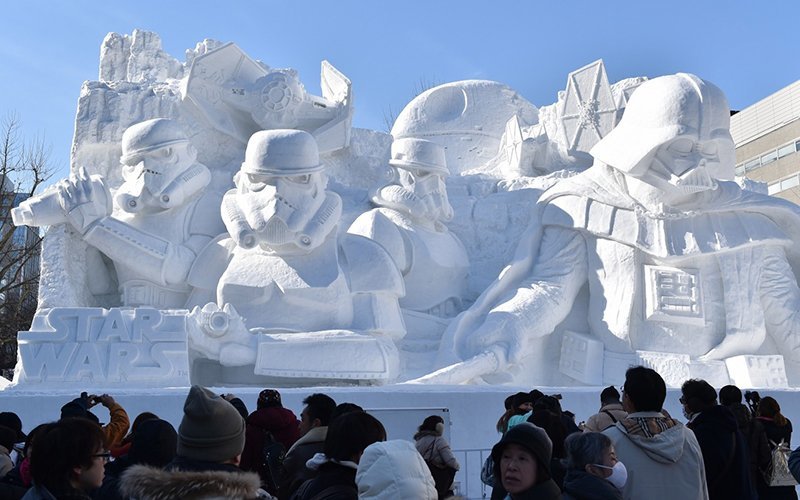 An amazing snow sculpture at the Sapporo Snow Festival!
Festivals
Hokkaido is a famous winter destination that celebrates the strong winters it receives in the form of festivals! There are several major festivals near Niseko in February. Visiting a festival or two is the perfect way to let your body relax from skiing hard as well as immerse yourself in Japanese matsuri (festival) culture. The biggest festival in Hokkaido would be the Sapporo Snow Festival. The "snowiest city in the world" displays over 300 amazing snow and ice sculptures, as well as a plethora of food and drink stalls. Just make sure to dress warm! Other festivals in the Niseko area during February include the Otaru Snow Light Path Festival, the Yukitopia Snow Festival, and the Lake Shikotsu Ice Festival.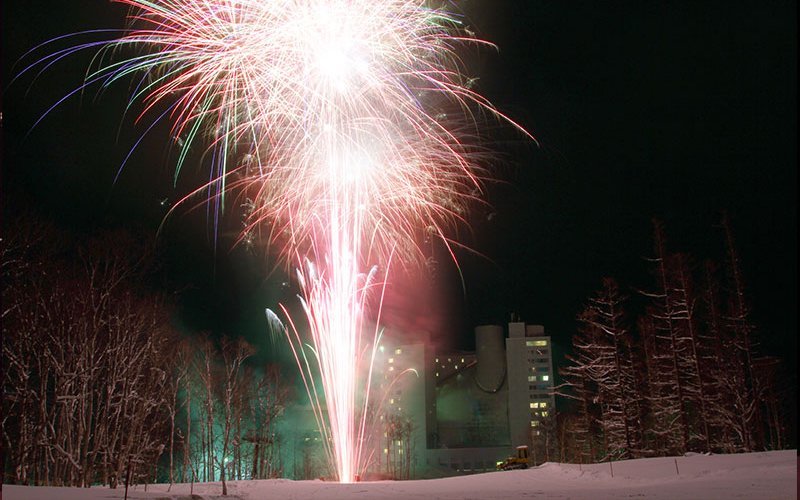 Chinese New Year fireworks at Niseko Village
Chinese New Year
Every winter in February, Niseko celebrates Chinese New Year with a variety of festivities. Enjoy fireworks at the base of the ski resort, traditional Chinese lion dancing at Hanazono, as well as other traditional happenings.  This large Chinese influence only comes once a year, and lets visitors get a different perspective of Niseko.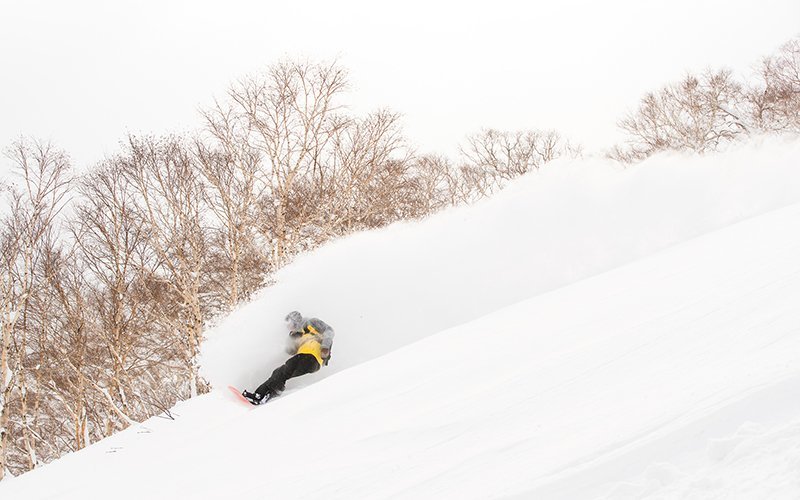 That famous Niseko powder in February
Discounts!  
As February is not at the height of the busiest season, this means it is the perfect time to save! In general, accommodation is already cheaper in February in the Niseko area. Why not use those savings to treat yourself to a stay in one of Niseko's many luxury properties?
Save on February accommodation
Right now, Vacation Niseko is running a special offer for the month of February. Save 10% on select properties for the whole month, no blackout dates! For additional information, click the button below.