Tokyo Metropolis: Niseko locals go to the big city
For international travelers coming to Niseko, visiting Tokyo during your trip is a great way to get a different perspective of Japan. Tokyo is quite a change from Niseko's laid back and rural demeanor and offers travelers memorable experiences that can only be made in Japan's capital city.  Read Evan Wilcox's perspective on his trip to Tokyo with a group of Niseko locals after all the snow had melted.
Bottomless powder. Hanazono 308 ramen lunch breaks. Perfect fall line tree runs. Energized Niseko nightlife. I had become very familiar with all of these throughout my two winter seasons spent living in Niseko. There was no denying that I was falling in love with Japan, however I still hadn't had the chance to travel around this wonderful country.
Looking back on Niseko's snowy 2017-18 Winter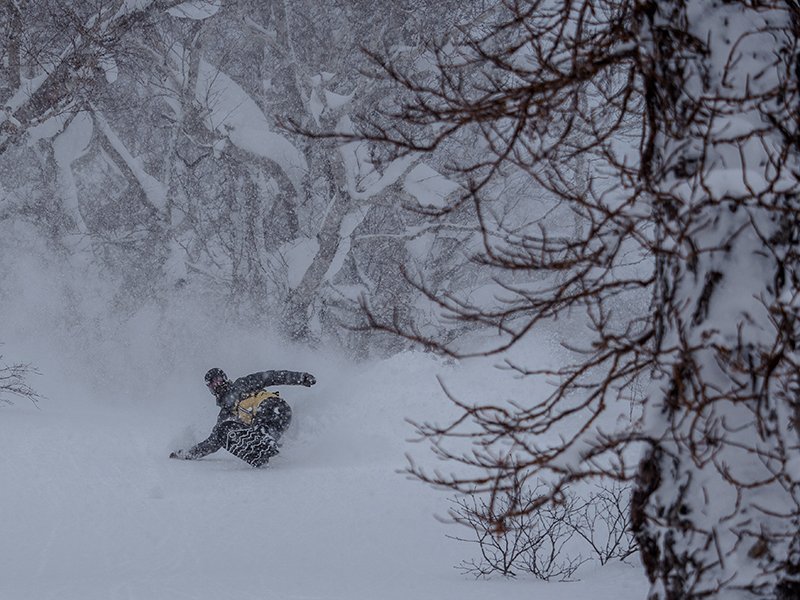 Enjoying that famous Niseko powder. Photo by Daniel Honda
As the winter turned to spring, an opportunity presented itself. My great friend Daniel Honda was planning on spending some time in Tokyo and invited me to come along. He had lived in the city for several years, and knew the ins and outs of it like only a Tokyo resident could. We were joined by Toshi Pander, another Niseko local who had spent some time in the capital city as well. I was being accompanied by two Japanese speakers with insider knowledge of Tokyo. How lucky can an American tourist get?
Tokyo was by far the largest city I had ever been in. In fact, the Greater Tokyo Area is the most populous metropolitan area in the world. In order to show the sheer massiveness of it, we headed straight for the Tokyo Metropolitan Government Building near our accommodation in Shinjuku. There are two observation decks at the height of 202 meters. This vantage point made the concrete jungle seem endless.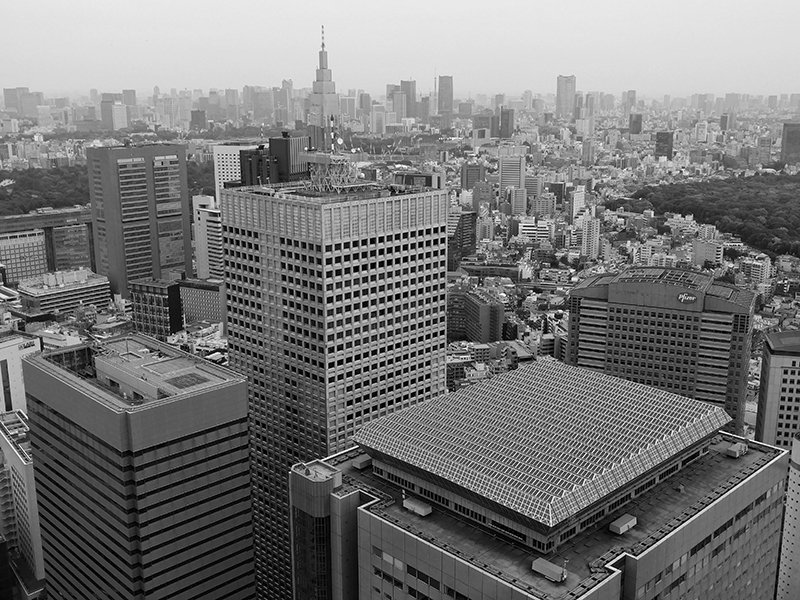 View from the observation deck
Staying in Shinjuku had its advantages. We were directly across from the streets of Golden Gai, where tons of tiny and unique bars were crammed in a space of a few blocks. Most could only fit 4 or 5 people inside. A few streets west put you in the heart of wild Kabukicho. Often referred to as the "sleepless town", Kabukicho has a plethora of love hotels, nightclubs, and deliciously affordable food.  It is the quintessential Tokyo neon nightlife scene I had always pictured in my mind.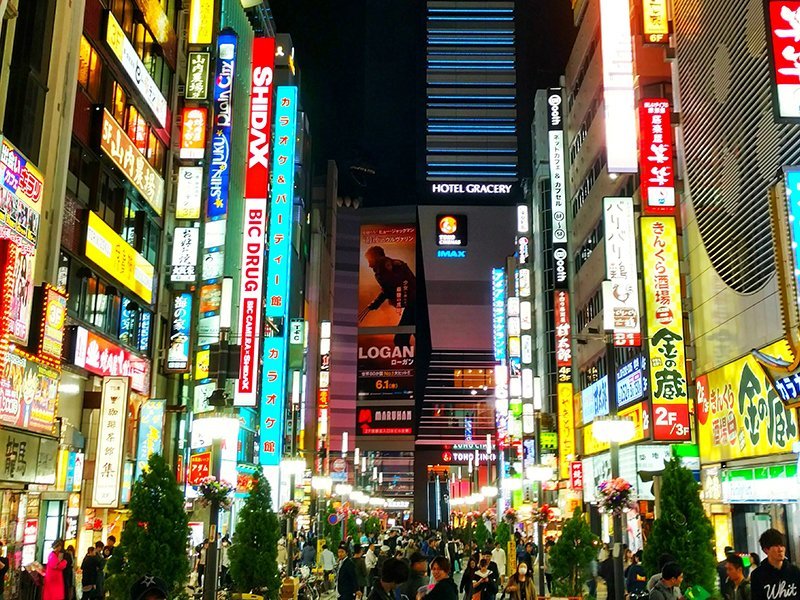 Hypnotized in Kabukicho
We got lost in the crowd at Shibuya crossing, danced all night at a few of the famous clubs, and waited for the first train home in the early morning. The Tsukiji fish market boasted the largest tuna I've ever seen, as well as some of the freshest sashimi I have ever tasted. We spent one night cruising the club-heavy streets of Ropongi, and another in classy pubs throughout Ginza. Akihabara is known for its technology, anime, and manga culture. However, we found ourselves on a closed street in the middle of a huge festival.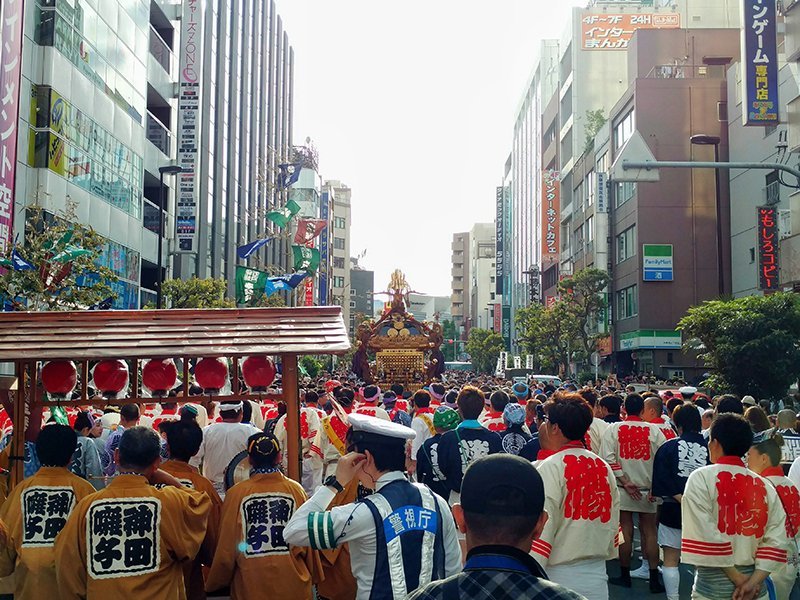 Lost in the Akihabara festival
One of my favorite moments of the trip came on my last day in the city. Toshi and I enjoyed a sunny spring day on the edge of the bay, and were heading back to Tokyo Tower by foot. We walked past an establishment serving drinks and traditional Japanese food to exclusively businessmen. It was around 5pm, and this place was packed. A two person table freed up in front of us and we slipped into the busy street-side restaurant.  We ordered two beers, but were quickly assured that we needed sake as well by a suit at the table next to us. This sparked an engaging conversation between our groups, comparing lifestyles and experiences (thank you for translating Toshi!).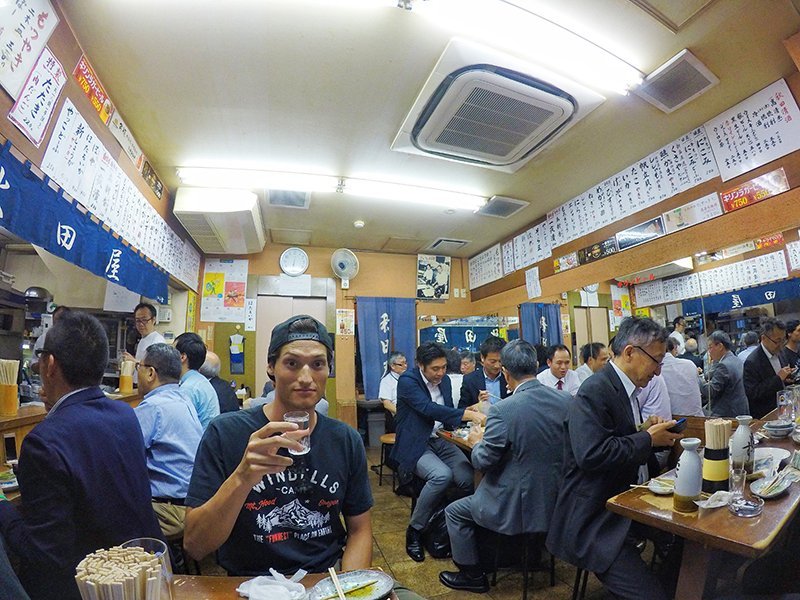 Trying to blend in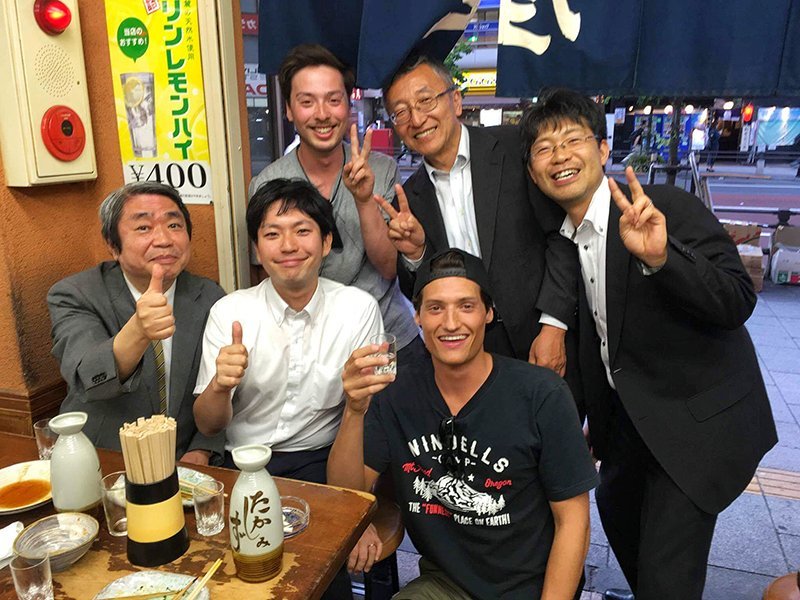 New Friends
Daniel had the slick idea of spending a sunset walking across the Rainbow Bridge from the Minato area to Odaiba. This gives a wonderful perspective of the city from Tokyo bay, and is an activity that I doubt most tourists get to appreciate.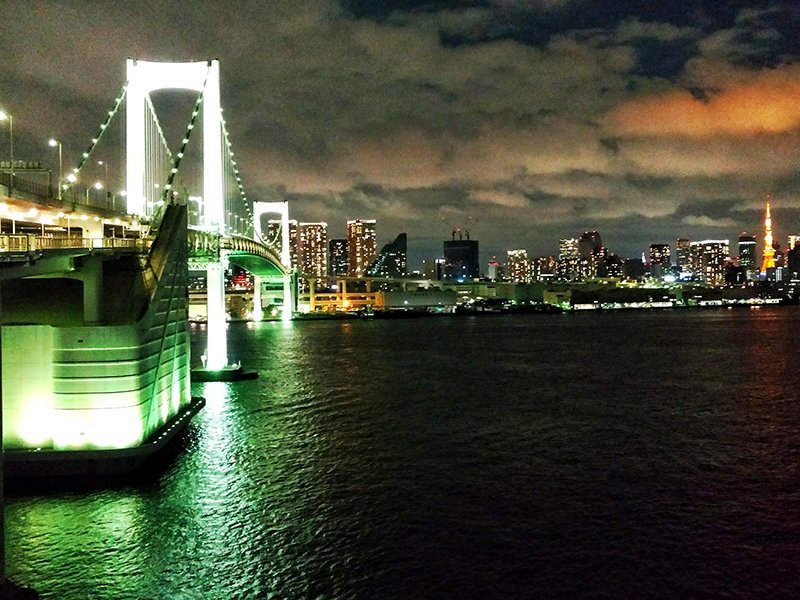 Rainbow Bridge at night
Although we barely allowed ourselves to rest, I still feel as if I only scratched the surface of what the capital city has to offer. Each area felt like the downtown of a separate major city; a characteristic that I have only experienced in Tokyo.  Getting a taste of Japanese culture outside of Niseko left me with one conclusion: I'm still hungry for more!